The naughty pictures of Edison Chen
Feb 23rd, 2008 | By
Dominic Berry
| Category:
Countries of the World
To call Edison Chen a Canadian boy is pushing things somewhat. He admits he was born in Vancouver and lived in that "fairly safe" city until "about nine." Then he moved to Hong Kong, where he "learned that the dollar bill rules everything." In his teens he was in New York City. But he was back in Canada for a bit as well, attending R. C. Palmer Secondary School, in Richmond, BC.
On the Friendster website his "Hometown" is still "Canada, Vancouver." Much more urgently, the now 27-year-old Mr. Chen, a star in the Hong Kong entertainment industry who can also claim Hollywood experience, and speaks perfect English along with Cantonese, Japanese, and Mandarin, has suddenly become the leading man in a "Hong Kong sex photos scandal." It may or may not have ruined his career – and the lives of such female performer friends as Gillian Chung, BoBo Chan, and Cecilia Cheung. But this scandal is at least more interesting than Paris Hilton. And it hints at intriguing vistas of the new Chinese version of the global village that apparently lies ahead.
The scandal in a nutshell …
Edison Chen was born in Vancouver on October 7, 1980. According to his Wikipedia biography: "In 1999, a talent scout approached Chen while he was clubbing with friends in Hong Kong and asked him to film a commercial at the age of 19."
Over the past eight years this led to roles in more than two dozen movies – mostly Cantonese language films made in Hong Kong, but also some Mandarin Chinese and Japanese projects, as well as the 2006 Hollywood-Tokyo horror flick The Grudge 2, along with Jennifer Beals and Sarah Michelle Gellar. Mr. Chen has appeared as a pop singer on more than a dozen albums too. Most of these have been in Cantonese, with a few Mandarin exceptions. But on a recent musical project for the Chinese market he sought the help of Kanye West from the USA.
As both an actor and a singer Edison Chen was in short order "winning the hearts of many screaming teenage girls" in Chinese and Japanese audiences. At the same time, he became more personally and directly involved with various female stars in the Hong Kong entertainment industry. His NNDB online biography, e.g., lists: "Girlfriend: BoBo Chan (ex-) ; Girlfriend: Gillian Chung (ex-) ; Girlfriend: Vincy Yeung."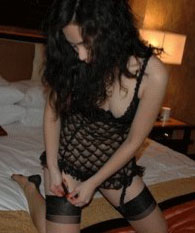 It turns out that Mr. Chen liked to take photos of his intimacies with his girlfriends, strictly for his private use (he has subsequently stressed). But these photos have led to his current undoing. As explained on the CBC website in Canada, the scandal that has now broken wide open "began when the 27-year-old performer sent his laptop computer to a shop for repair. The computer contained approximately 1,300 photos of Chen and a bevy of female Chinese celebrities either posed suggestively or engaged in sex acts, according to police … Suspects stole and subsequently published the images on the internet, where they have been widely circulated."
The wide circulation of these "naughty pictures" on the net over the past several weeks has upset and even damaged the careers of a number of the young ladies depicted (to say nothing of their families, in what is apparently still a rather traditional Chinese social universe). Finally, on February 21, 2008, Edison Chen "held a press conference in Hong Kong to publicly address for the first time the ongoing controversy, which has shocked the Chinese-speaking world for weeks."
As further explained on the CBC website: "These photos were very private and were never intended to be shown to anyone,' Chen said … I would like to apologize to all the ladies and to all their families for any harm or hurt they have been feeling. I'm sorry … I know young people in Hong Kong look up to many figures in our society and, in this regard, I have failed as a role model' … Chen also said he has decided to break from the Hong Kong industry indefinitely … I will wholeheartedly fulfill all commitments I have to date but after that I have decided to step away from the Hong Kong entertainment industry … I have decided to do this to give myself an opportunity to heal myself and to search my soul. I will dedicate my time to charity and community work within the next few months.'"
Are there deeper meanings for the new global village?
Jaded North Americans accustomed to reading about "Paris Hilton … working her way back into the whore hall of fame" for her 27th birthday this year may wonder what all the fuss is about. (Ms. Hilton, the story goes, deliberately if nonetheless surreptitiously circulated some scandalous photos of herself and a sex partner to help establish her reputation.)
Once again, the CBC website has tried to explain what is going on to confused Canadians: "Hong Kong police have made several arrests amid their ongoing investigation into the case, which has also spread to mainland China and Taiwan … Local officers in the southern Chinese city of Shenzen and in Taipei have arrested suspects for allegedly distributing the photos … As a film and music industry hub, Hong Kong has a high-profile culture of celebrity akin to a Chinese version of Hollywood, London or Mumbai … However, unlike the Western world, media coverage of local stars is generally more prim, with reportage that includes sex or nudity often harshly criticized by the industry … In 2006, for example, an illicitly photographed image of Canto-pop singer Gillian Chung (reportedly one of the women in Chen's photos) changing clothes backstage during a concert sparked a major backlash against the outlets that published it."
You can catch something of this "generally more prim" rising Chinese pop culture in some Edison Chen videos currently available on You Tube : "Love Triangle – Edison Chen, Gillian Chung, Charlene Choi," e.g., or "Edison Chen and Gillian Chung – You & I'." And, you might almost say, Edison Chen's private "naughty pictures" themselves often have a gentle and delicate quality, even when they are quite explicit sexually.
[In his recent apology for the naughty pictures as captured on You Tube, Mr. Chen asks: "if you have ever downloaded any of these images, please do not send them to anyone." But this is rather disingenuous, certainly in a North American context. And to write a web piece like this one without at least pointing interested readers in the right if also wrong direction would be intellectually dishonest. So I can at least report that at the time of writing this "Edison Chen and Gillian Chung Naughty Pic Scandal" item on the Hollywood Grind site offered as complete a selection of the sex photos involved in the scandal as any sensible person might want to study first hand, all for free. Unfortunately, no sooner had the counterweights editors posted this article on the net than someone involved with Hollywood Grind had started charging money for viewing the most salacious images here. Pay if you like, but understand that you won't be paying us anything. I'll be checking around on the www to see if I can't find at least something that survives the sudden bursting of the scandal for free! Meanwhile, although not at all as good as the Hollywood Grind site when it was still free, "Edison Chen, Bobo Chan, Gillian Chung and Cecilia Cheung embroiled in Hong Kong's biggest sex photo scandal ever" from the Shanghaiist site gives some sense of what is or was in the approximately 1,300 photos in question. And someone expecially keen could also look at "Edison Chen Sex Pictures Uploaded By 'Kira'" on Japan Probe. Otherwise, I have studied many of the photos while they were still free at Hollywood Grind, and take my word for it: some of the images certainly are explicit and quite raunchy – even if many do retain a certain gentle and delicate quality as well.]
Our human interest in sexuality does (understandably) seem as close as we get to a cultural universal, shared throughout the global village. But different cultures clearly do have different approaches to expressing sexuality. Ian Buruma has reported in his book A Japanese Mirror: Heroes and Villains of Japanese Culture on how, in such metropoli as Tokyo: "Photographs of nude women trussed up in ropes appear regularly in mass circulation newspapers; torture scenes are common on television, even in children's programmes; glossy, poster-sized pictures of pre-pubescent girls are on display in the main shopping streets; sado-masochistic pornography is perused quite openly by a large number of men on their way to work on the subway."
Edison Chen's cultural range includes Japanese as well as Cantonese, Mandarin, and English language milieux. (And as assorted videos on the net make clear, btw, he does speak English as well and idiomatically as you might expect from someone who spent much time growing up in Vancouver, or New York City. In alluding to the latest apology video, the Shanghaiist site noted above also remarked: "And if you're wondering why Edison's speaking in English, he's Canadian.") There is virtually nothing in Mr. Chen's Hong Kong sex photos that matches Buruma's account of nude women trussed up in ropes, and so forth. But there is something about many of Mr. Chen's intimate private photos of his girlfriends (and himself of course) that seems to echo another sentence in Buruma's book: "It is often said that one can get away with almost anything in Japan as long as one is not caught."
The great mistake that Edison Chen and his girlfriends have made in this context is that they did get caught. And I finally find it impossible myself to disagree with the American male blogger who has urged that they have only themselves to blame: "Really, how dumb do you need to be? On all sides? Girls, here's a free piece of advice for you from your friendly neighborhood PR man: If you let a guy take digital nudie pix of you, sooner or later those pix are going to end up on the Internet. Not maybe. Not could be. Inevitably. The Internet is like a gravity well for nudity, and there is a 100 percent chance those pictures will end up there someday. Probably the week of your wedding." And so it is sad to hear as well that "BoBo Chan was engaged to marry stock market genius, Philip Jin Zi Yao[;] however, after the scandal hit the news Phillip's mother ordered him to end his relationship with BoBo. Reports say BoBo cried for many days." But again, BoBo: "Really, how dumb do you need to be?"
And then yet again, there are aspects of it all that make you wonder if BoBo really did cry for many days? This brings to mind further reports from Ian Buruma – about how the "Japanese are … gentle, tender, soft and meek people with hardcore fantasies of death and bondage," and how in Japan "conflict is hidden behind a bland veil of politeness." The "Naughty Pic Scandal" article on the Hollywood Grind site points to a photo called "Gillian Chung Returns To Work," and notes sarcastically: "Gillian is still trying to look like an innocent school girl." Then it points to an article called "Nicolas Tse and Cecilia Cheung Separate Over Scandal," and explains that the "article includes a messy history of Cecilia's cheating, and details how she was seeing many men at the same time." It is also noted that Gillian Chung had earlier had some problems with "naughty pictures from a previous scandal. Chung should have learned the first time."
The most honest thing that can be said by a person like me, who has never been to any of Hong Kong, mainland China, or Japan, is no doubt just who really knows what it all means for the future of the wider global village? I certainly don't. And it is no doubt true as well that I find reading about Edison Chen, and Gillian Chung, and Cecilia Cheung, and BoBo Chan more interesting than reading about Paris Hilton and Lindsay Lohan and Britney Spears these days, because I still just don't know all that much about them. Their adventures are still fresh to me – in something of the way younger women can seem fresh to older men, who have grown too jaded by too much experience with older women.
At the same time, you can't have grown up in big-city Canada as I have over the past half-century of the rising global village, without bumping into more than a few people who at least look and sound quite a lot like Edison Chen, and Gillian Chung, and Cecilia Cheung, and BoBo Chan. They have always struck me as quite fascinating individuals with some potentially very intriguing contributions to make for the future not just of East Asia, but for all of us who see ourselves in one way or another as new citizens of the world, as well as citizens of the particular old and new countries we still inevitably call our own. Something a little more exact about just what these contributions might be somehow seems to have surfaced along with Edison Chen's "Hong Kong sex photos scandal." And it struck me late last night that I am probably going to be spending a bit more time over the next several months trying to figure out just what it is.