Can Xavier Trudeau save Canada .. and/or the global village?
Oct 20th, 2007 | By
Counterweights Editors
| Category:
Key Current Issues
Whatever else, the current generation of Montreal (and Vancouver?) Trudeaus have a keen sense of timing. (And timing, grandfather Pierre once pronounced, is everything in politics.) As the Edmonton Journal has explained: "Justin Trudeau became a father shortly after noon Thursday [October 18, 2007] when his wife Sophie Gregoire gave birth to … Xavier James Trudeau … Originally due on Oct. 5 … Xavier James may have waited to share a birthdate with … [former longstanding Liberal prime minister] Pierre Elliott Trudeau," who "was born Oct. 18, 1919."
But can the arrival of Xavier James Trudeau do anything at all to salvage the misfortunes of the Liberal Party of Canada today – with its current beleaguered leader Stephane Dion? The only possible answer is maybe, maybe not. Meanwhile, the Canadian dollar hits a 33-year high. The Bandidos biker gang decides to abandon Canadian expansion plans. Benazir Bhutto remains defiant in Pakistan. And George W. Bush at last seems to be doing something sensible, in old Burma on the road to Mandalay (far, far away from Iraq and Iran).
Justin Trudeau on how "We Need to Change" …
Although Justin is the older of Pierre Trudeau's two surviving sons, he has not been the first to become a father. As the Toronto Star has explained, his "younger brother Alexandre and his partner Zoe Bedos" are already "parents of a 10-month-old son, Pierre-Emmanuel. Trudeau."
Yet it is Justin, the "35-year-old former drama teacher," who "will stand in the next federal election as the Liberal candidate in the north-end Montreal riding of Papineau." And you can get some taste of Justin Trudeau's aspiring new political persona, in some remarks he made at the "68th annual Canadian Institute of Public Health Inspectors (CIPHI) educational conference" – held in the northern woods of Sudbury, Ontario during the later part of this past September. (The "three-day conference, called Learning from the Past Planning for the Future, was hosted by the Sudbury and District Health Unit and focused on how climate change is affecting all aspects of public health including infection control, vector-borne diseases and food and water safety.")

Can you hear the sound of some compelling new voice in Canadian democratic politics here? As in, e.g.:"We need to begin to shift away from short term gains and narrow concerns and begin to think in breadth and depth in what we do and how we live …. We live extremely good lives, but it's based, unfortunately, on a very short-term model … We've reached a saturation point where everything we do now has consequences … The problem is, because this is a recent change, we haven't necessarily adjusted our thinking to take that into account … We cannot expect the rest of the world to accept that we keep living the way we do and not care about the consequences when they're dying."
The 35-year-old Justin Trudeau went on: "Climate change is a huge issue, but unfortunately it's one that has the irony of hitting hardest the people who are least responsible for it … We're hoping that we will run out of track only after we're gone, but we have to realize our kids are still going to be on that train … The rest of the world will look to Canada as an example to lead the way … But we're hesitant because we don't want to be the only ones doing it. It needs to be a will across the country, at all levels, for people to take on initiatives …We need to know what's actually going to make a difference and what's actually happening … There needs to be a shift toward hard science and it's something we're resistant to."
Mmmm … You have to ask yourself: What will Stephen Harper (or John Baird, for that matter) be making of this kind of vague but at least high-minded talk?
(And for that matter, what will the environmental policy guru Stephane Dion himself think – assuming Justin Trudeau does eventually get elected in Papineau? )
Why some people don't believe the Canadian dollar is really soaring …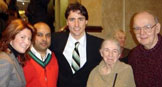 According to Julian Beltrame at the Canadian Press: "The Canadian dollar hit a 33-year record high Friday [October 19, 2007], flying well past the $1.03 US mark on news that Canada's inflation rate had jumped to 2.5 per cent, stalling speculation that interest rates may be coming down … The loonie opened at 103.42 cents US, up 0.72 of a cent from Thursday, and kept going, nearing 104 cents US at one point. It ended the day up 0.85 of a cent to 103.55 cents US – a level last seen in mid-1976."
Some US retailers close to the Canadian border are apparently still not recognizing what the money markets are saying about the soaring value of the Canadian dollar. E.g., some Buffalo merchants south of Ontario, it has recently been said, are still only offering 60 cents US for one Canadian dollar.

A tourist who some of us had the joy of meeting abroad recently urged that he was in his 80s, and never before in his lifetime had the Canadian dollar been worth "anything more than 72 cents." From this point of view – as well as a few others, even inside Canada – the recent dramatic rise of the Canadian dollar can take on almost apocalyptic overtones.
Yet all who can seriously remember back to the mid 1970s will also recall that the Canadian dollar has certainly been this high before. And it isn't necessarily such a good thing practically, even for Canada, when the Canadian dollar rises above the US dollar like this. But after a quarter of a century when the market value of the Canadian dollar has been consistently below the US dollar, for many in the true north etc the steady climb this year has been at least a kind of tonic. And these days, who's going to quarrel too much about that? For the moment, at any rate?
Bye Bye Bandidos
The rising value of the Canadian dollar probably has almost nothing to do with why the Bandidos – "the world's second largest outlaw motorcycle club" – has "given up its attempt to expand into Canada." After "a decade of bombings, murders and imprisonment … There isn't no more Bandidos MC (motorcycle club) membership in Canada,' says a posting on the official Bandidos Motorcycle Club website."
The posting "is signed Cisco 13. 1 %er Canada,' the biker moniker for Frank (Cisco) Lenti, 60, who's now in jail, awaiting trial of second-degree murder charges for allegedly shooting David (Dred) Buchanan of the West Toronto Hells Angels chapter … Lenti also faces two attempted murder charges in relation to the early morning gunfire at the Club Pro strip club near Hwy. 7 and Jane St. in Vaughan in December 2006."
The posting also notes that the current Canadian Bandidos website "will remain open for a while longer to commemorate the eight members of Lenti's Toronto chapter, whose bodies were found outside the southwestern Ontario town of Shedden in April 2006. Six members of the Bandidos and their associates are charged with first-degree murder in their slayings, the largest mass murder in Ontario history."
The sadness of Pakistan …
According to Ashraf Khan of the Associated Press: "Former prime minister Benazir Bhutto blamed Al Qaeda and Taliban militants today for the assassination attempt against her that killed at least 136 people, and vowed she was ready to risk life and liberty to restore democracy to her troubled homeland … The list of characters who would have liked to kill the pro-Western Harvard and Oxford scholar is long – from the military generals allegedly complicit in her father's execution to Islamic extremists bent on stopping a female political leader from modernizing Pakistan."
You can only wish the very best to Benazir Bhutto, and her struggle for democracy in Pakistan. The sad (and no doubt ultimately psychotic) slayings that have marred Ms. Bhutto's return to Pakistan certainly raise troubling questions about the future. But, next to Turkey, Pakistan is already as close to some almost serious form of democracy as anywhere else in the Middle East. Ms. Bhutto's mission may finally be doomed to fail – as other similar missions have failed in the past. But if you do happen to seriously believe in democracy, you probably do have to hope that she will somehow succeed, for at least another while.
Dubya gets something right?
On some vaguely parallel regional plane – out in the real world, beyond the Middle West and the old Mississippi Valley of Democracy – the repressive military regime in Burma (Myanmar) also shows just how much worse than Pakistan such accidents of history can be.
We tend to feel that very little President George W. Bush of the USA today has done over the past several years has been remotely sensible to say nothing of good public policy. But his decision on Friday, October 19, 2007 to "set new sanctions against members of Myanmar's military junta and their associates in response to the junta's violent crackdown on democracy protesters" is an exception to the rule. Here President Bush is at last weighing on the side of the angels – and he deserves a little applause, even from people who are loath to give it to him.
Is Stephen Harper's revolution now unstoppable in Canada?
The short answer is of course not. Nothing in Canadian politics is quite like that – and Mr. Harper has yet to win a majority government, or more than 37% of the popular vote!
Things can change quickly in any kind of authentic democratic politics. Mr. Dion may not look quite so hopeless when the next federal election finally does come as he looks right now.
Yet as the fall of 2007 sets in – getting close to two years since the late January 2006 election that brought Mr. Harper's minority government to office – Mr. Harper is starting to look like someone who actually is and ought to be Prime Minister of Canada.
The best argument for saying let his minority government govern – or even win another election as another minority government – is that he has at last given Western Canada at least the beginnings of the voice in running Canada that it has long said it wants.
It may be that the real question about the big future in Ottawa is: Can Mr. Harper's Western Canada figure out a way of governing Canada that is not just in Western Canada's interest? Can Mr. Harper, e.g., largely ignore Ontario, but at least win over Quebec on pragmatic grounds?
And can he finally put all thoughts of the right-wing revolution in Canada at large out of his head? The closer he tries to move towards the ideological purity of his youth, the farther he will be from any long-term domination of the Canadian future. ("Canadians," as the historian Frank Underhill said long ago, "always vote Democratic in American elections.")