Joyce Murray not next Liberal Party of Canada leader .. but she may be most interesting candidate?
Jan 24th, 2013 | By
Randall White
| Category:
Ottawa Scene
Without actually wanting to add to my colleague Frank Bunting's recent over-effusive references to the work of Thomas Walkom at the Toronto Star, I have been drawn in spite of myself to yesterday's further ruminations by the same authority,"Do Canada's, or Ontario's, Liberals matter any more: Thomas Walkom."
At least on the surface of things, Mr. Walkom concludes: "The new [federal] NDP, while more slippery than it once was, still takes positions on fundamental issues like taxes and climate change …  But the Liberals? Who knows? …  Who are they? If they suddenly disappeared from the face of the earth, would anyone notice?"
Personally, I am somewhat less unimpressed by the current activities of Canada's former alleged natural governing party. To start with, I think it is important to remember that the big arena for pondering Thomas Walkom's question includes more than just "Canada" and "Ontario." The other two or even three largest provinces of the 1867 confederation are also involved : as in, eg: "Hébert: The real Liberal race is in Quebec" ; "BC Liberals pick up support as Conservatives falter" ; and even "Albertans hold fundraiser for BC Liberals."
Still more strikingly, I agree that Barbara Yaffe at the Vancouver Sun was onto something in her account of the federal party's first nine-candidate leadership debate in Vancouver this past Sunday. ("Liberal lesser-knowns fail to distinguish themselves … The 41-year old son of the late Pierre Elliott Trudeau, even at this early point in the race, has a significant lead.") But I think Susan Delacourt at the Toronto Star was still a bit prescient, when she earlier opined : "Liberal leadership debate in Vancouver will give candidate Joyce Murray time to shine … In a field crowded with candidates making appeals to the centre-right of the political spectrum, Murray is one of the rare few contenders saying that the Liberals' future lies in the progressive left …"
Similarly, as Ms Yaffe herself has conceded, in Vancouver this past Sunday the "debate issue that inspired the strongest opinions was the idea of electoral cooperation with the New Democratic Party to defeat the Harper Conservatives …  All candidates except Vancouver Quadra MP Joyce Murray firmly rejected the proposal …  Another topic prompting disagreement, particularly between Murray and former Willowdale MP Martha Hall Findlay, related to an oil pipeline across northern BC for oil exports to Asia … Murray spoke on behalf of environmental sustainability and the need to 'protect a pristine part of our coast.'"
I feel compelled to confess as well that the talking points Ms. Murray's campaign have been putting out for some kind of hopeful mass consumption lately have at least impressed me : "Joyce has said to Canadians from coast to coast that the Liberal Party needs to stand for a truly Sustainable Society … She has offered her ideas —  things like the full legalization and taxation of cannabis, democratic reform and political cooperation, green energy and digital economy, and a national food policy — as examples of what that leadership would look like …"
Justin Trudeau almost certainly will win, but (like Nathan Cullen in Mulcair's new NDP?) Joyce Murray is carrying the torch for progressive co-operation and the "new Obama liberalism" in Canada?

Some say Justin Trudeau's current celebrity has been largely manufactured by sympathetic branches of the mass media. Yet the key data-based argument is that, according to recent opinion polls, he alone, among all nine current contenders, has the capacity to make the Liberal Party of Canada seriously competitive again.
At the same time, it is also part of the data-based argument that the young M. Trudeau's polling numbers have been faltering at least somewhat in the most recent past. See, eg:  OCT 30, 2012 — "'Trudeau Effect': With Justin as leader Liberals would win majority government, poll finds" ;  NOV 21, 2012 — "Justin Trudeau-led Liberals would win … a strong minority government" ;
DEC 8, 2012 — "Poll: Justin Trudeau's Liberals would tie Conservatives" ; DEC 11, 2012 — "Justin Trudeau Poll Suggests Liberal Leadership Front-Runner May Be Faltering."
At the same time again, even a somewhat faltering Justin Trudeau is still doing much better in the polls than anyone else. Both the smart money and the popular majority still see him as the almost certain winner on April 14. (At the moment anyway. See, eg : JAN 3, 2013 — "Most Canadians expect Justin Trudeau to win Liberal leadership race, poll finds" ; and JAN 21, 2013 — "Liberal Party Leadership: Intrade Shares Show Trudeau With 75% Chance Of Winning.")
Joyce Murray, on the other hand, is not very well known beyond her BC home province. Even setting Justin Trudeau aside, she still places behind former astronaut Marc Garneau in polls among the cross-Canada electorate — and sometimes even behind Martha Hall Findlay. There is still quite a lot of time between now and the April 14 federal Liberal leadership decision deadline — you could argue at any rate. But, as things look right now, I'd agree that it's not too likely Joyce Murray can move ahead of the young and charismatic M. Trudeau (or even M. Garneau?).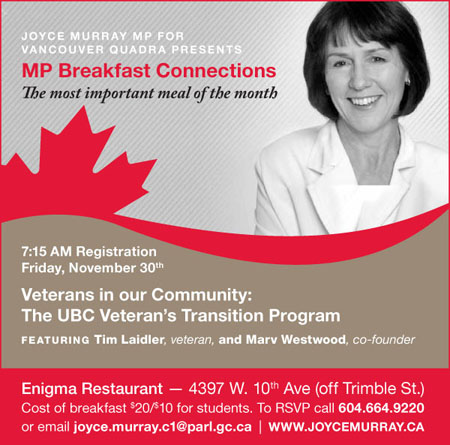 On the other hand again, in many ways, Joyce Murray is speaking up for the big and bold progressive side of the historic Liberal Party of Canada for which I still have some admiration myself. As in this burst from her current talking points: "It's not the first time we've seen bold ideas from leaders of our Party … Lester Pearson knew that national health care was not just the right thing to do but also a competitive advantage; Pierre Trudeau enshrined the Charter of Rights and Freedoms at the centre of Canada's Constitution; Jean Chretien put Canada in Kyoto and kept us out of a senseless war in Iraq; and Paul Martin gave us the Kelowna Accord — and boy have we seen the need for Kelowna over the past few weeks."
I give Ms Murray a lot of credit too for her aggressive support of "democratic reform and political cooperation." If Justin Trudeau really could win a majority again for his father's old party, not worrying about co-operation with the New Democrats (and perhaps even the Greens) would make some sense. (Though even in this case it's worth noting that even on the most optimistic majority scenario of the earlier polls, the Trudeau Liberals wouldn't be taking any more of the cross-Canada popular vote than the Harper Conservatives did in May 2011. The democratic majority of Canadians would still have voted for someone else!)
Yet, in fact, the broad sweep of all the opinion polls of the past several months still strongly suggests that even a federal Liberal Party led by Justin Trudeau is not going to be able to govern Canada without help from the Mulcair New Democrats (and/or vice-versa).  And so in this past Sunday's debate in Vancouver: "According to Trudeau, Murray's electoral cooperation plan would blur the lines between the values extolled by Liberals and the NDP. The Quebec MP added he wasn't ready to give up his Liberal values. Murray fired back saying, 'if you want to replace Stephen Harper, where's your plan?'" (And wasn't one of the key values of Pierre Trudeau's Liberal party that you always campaign from the left anyway?)
Just two more quick and dirty items:
(1) The more you get to know about Joyce Murray, the more interesting she becomes. Born in South Africa in 1954, she came to Canada with her parents at the tender age of 7. She later graduated from Vancouver's Lord Byng Secondary School and Simon Fraser University.
A "small tree-planting proprietorship" Joyce started with her future husband  Dirk Brinkman blossomed into  Brinkman & Associates Reforestation Ltd. She "found myself running the back office of a growing company with more than 500 employees, and juggling the responsibilities of work and raising three young children."
Brinkman & Associates Reforestation continued (and continues) to grow. In 1989 Joyce returned to SFU for a mature-student MBA, to broaden her business outlook (and write a 1992 thesis on "the challenge of climate change"). About a decade later, she had became a BC provincial cabinet minister, serving as  Minister of Water, Land and Air Protection (Environment and Parks), 2001-2004 and Minister of Management Services 2004-2005.
In 2006 "my attention shifted to federal politics. After successfully contesting a nomination race in Vancouver Quadra, I was elected to the Canadian Parliament in a federal by-election. Since then I have been re-elected in 2008 and 2011 …  I have worked as a vigorous advocate for a stronger and greener economy, and to ensure that the federal government pursues intelligent, informed, and forward-looking policies."
(2) This past Tuesday, January 22, the day after President Barack Obama's second inauguration in Washington, Joyce Murray tweeted "Joyce Murray @joycemurray … Obama: 'We will respond 2 the threat of climate change, knowing that failure 2 do so wd betray our children and future generations' #lpcldr". Ms Murray is, as best as I can make out at any rate, the candidate in the current Liberal Party of Canada leadership race who is standing up the strongest for the progressive new liberal vision articulated so powerfully and impressively by President Obama, in his second inaugural address this past Monday, January 21, 2013.
Meanwhile, back in Canada's most populous province this coming weekend …

As I write (on the sunny but still very cold afternoon of January 24, 2013) the second part of "Do Canada's, or Ontario's, Liberals matter any more: Thomas Walkom" is already descending upon the Toronto streets surrounding the old Maple Leaf Gardens  — where the grand finale of the current Ontario Liberal leadership race gets under way tomorrow. (With the start of the actual voting on Saturday, January 26 — and the definitive end perhaps arriving sometime early on the morning of Sunday, January 27?)
The assumption that Sandra Pupatello will prove the ultimate winner is so strong in so many places that it would be a pleasant surprise if she lost, from some  points of view in any case. My own guess is that both Gerard Kennedy and (especially) Kathleen Wynne still have a sporting chance. And still other surprises should not be discounted altogether, no doubt. As others have already said on this site, however (or was that actually me — I confess I forget), if I had to put down serious Canadian money right now, I too would bet on Ms Pupatello.
In any event, for those who really are interested in just who the next Ontario Liberal leader and (for at least a short while) the next Ontario premier will prove to be this coming weekend, I can only advise regular and careful watching of cp24 TV in the Toronto area (if you can get this on your system) — or another visit to this counterweights site itself, sometime on the evening of Sunday, January 27 or the early morning of Monday, January 28.
For the time being, here are some news articles from this week that may or may not prove relevant, when all the votes are counted at the old Maple Leaf  Gardens, in the city with the heart of a loan shark, home of the Ontario provincial legislature at Queen's Park, etc, etc, etc:
JAN 21 — Sandra Pupatello is Ontario Liberals' best bet as leader: Editorial … [Toronto Star editorial]
JAN 22  — Empty legislatures a disturbing trend for Canadian democracy: Tim Harper … [Which alludes to the fact that the Ontario legislature sat longer than any other provincial legislature in Canada last year — as documented in  SITTING DAYS OF THE PROVINCIAL AND TERRITORIAL LEGISLATURES BY CALENDAR YEAR 1987 to Date : see "Sandra Pupatello criticized" below.]
JAN 22 — Jarvis: Ten Tough Questions for Sandra … [Ms Pupatello is questioned by her hometown Windsor Star.]
JAN 23 — Siddiqui: Nightmare scenario for Sandra Pupatello … [A plea for Kathleen Wynne from the Toronto Star's Haroon Siddiqui, who does not agree with his paper's editorial board.]
JAN 24 — Sandra Pupatello criticized over plan to keep legislature closed until she's elected … [But see "Empty legislatures" etc above.]
JAN 24 — Cohn: The political powers of Sandra Pupatello: premier or opposition leader?
JAN 24 — Kennedy knows front-runner status does not ensure victor … [And maybe there still is some kind of chance for him — or Kathleen Wynne!]
JAN 24 — Chris Selley on the McGuinty years: How does a Premier like this stay in office? …[And in my view, if you really don't know the answer to this question, you really don't know much about Ontario ; but don't worry too much : Northrop Frye called it "surely one of the most inarticulate communities in human culture."]