New Ottawa plot thickens .. notes on the Harper government's early days
Feb 7th, 2006 | By
Counterweights Editors
| Category:
Ottawa Scene
TUESDAY, FEBRUARY 7, 2006. What a difference half-a-day makes. By noon yesterday Canada's new Conservative prime minister Stephen Harper seemed to have made a surprisingly strong start. His new cabinet was controversial in some respects but also quite clever. Then, by the early evening his so-called new "parliamentary strategy" became clear. And it started to seem as if maybe he was being a bit "too clever by half" (as the great authority on The English Constitution, Walter Bagehot, liked to say). We now also know that the full fractured Parliament Canadians democratically elected on January 23 will convene in Ottawa on April 3. So stay tuned. Some of Mr. Harper's old weaknesses may be back already.
As usual, John Ibbitson at the Toronto Globe and Mail has summed things up this morning, almost very impressively: "Mr. Harper also revealed his parliamentary strategy yesterday, announcing that the Conservatives would, as promised, scrap the Liberal child-care program and replace it with direct cheques, the first of which would go out in July … All other parties oppose this program. By fast-tracking it, Mr. Harper is forcing them to either let it pass or to bring down the government immediately. Do the Liberals really want to force an election, with Paul Martin hauled back from the farm to fight it? … It's going to be an interesting spring. But one thing is clear: Stephen Harper is firmly in charge."
As brilliant as Mr. Ibbitson often is, it's the part here about "firmly in charge" that you have to wonder about now. In the first place, given all the past masters of neo-Machiavellian parliamentary procedure who still reside in Ottawa, is it really necessary for the opposition parties to bring the new Conservative government down, in order to defeat its "direct cheques" child-care program, which presumably well over 60% of the Canadian people voted against on January 23?
And then, even supposing it were, in such a case would not Governor General Mme Jean then be entitled to ask the three opposition leaders if they were prepared to collectively form some type of short-term interim real coalition government, in order to avoid yet another federal election quite so soon after the last one?
And then, even if this were deemed inappropriate by whoever is entitled to make such decisions, might not an election on this issue actually prove quite attractive to the Liberals whom Paul Martin has, as it happens, taken some care to ensure he still officially leads? Remember how Pierre Trudeau came back from the dead in 1980?
In any event Mr. Ibbitson is surely right about one thing. It is "going to be an interesting spring." Who knows? Still more big surprises may be in store. And Belinda Stronach and not David Emerson may finally have the last laugh after all? [FEBRUARY 27 UPDATE: Subsequent events have suggested, ever so slightly, that the last two paragraphs here  suffer from some rhetorical stretching in the heat of the moment. The Liberals probably do not have the financial resources to fight yet another fresh election as soon as this spring or summer. Interim Liberal leader Bill Graham has said his party will be defending its own policy priorities fearlessly, come what may. But Bloc Quebecois house leader Michel Gauthier has also told a young journalist that his party will likely be propping up the Harper government for a while in any case. At the same time, the Harper government continues to press its direct-cheques child-care policy, as if it had a majority in parliament and an electoral mandate of considerably more than the 36.3% of the popular vote it actually has. And the counterweights editors still think this means trouble ahead for the Harper government. Even with the BQ and the Tories supposedly safe in bed together, still more big surprises could lie on the horizon, even if not quite as big as Ms. Stronach's having the last laugh on Mr. Emerson – at least for another 18 months or so yet?]
NEW CONSERVATIVE CABINET IN CANADA .. a few more surprises .. just to start things off ..
MONDAY, FEBRUARY 6, 2006. 3 PM (EST) / 12 NOON (PST). Now we know a bit more about just what both Stephen Harper and Preston Manning were getting at when they spoke somewhat cryptically over the past several days about "this new conservative-reform coalition" that will be trying to "set a new course for the Canada of the 21st century."
Thus the biggest surprise about the Harper cabinet sworn into office this morning is that it includes former Liberal cabinet minister David Emerson from the Vancouver area as the new Conservative Minister of International Trade. No Ottawa pundits seem to have been expecting anything quite like this. And new Prime Minister Harper scores points here on several counts – not the least of which is nice revenge for Belinda Stronach's parallel defection from the Conservative to the Liberal benches late last spring.
Next in the surprise line is the appointment of Michael Fortier from the Montreal area as Minister of Public Works and Government Services. M. Fortier, the political operative who masterminded the surprisingly successful Conservative campaign in Quebec for the 2006 election, does not hold a seat in Parliament. Mr. Harper will be appointing him to the Senate, apparently on the understanding that he will run for elected office in the next election. (Which Prime Minister Harper seems to believe will take place not too far into the future.)
The new prime minister has also done a rather tidy job in terms of the traditional regional representation functions of Canadian federal cabinets. His lean and mean new ministry of 27 includes nine ministers from the most populous province of Ontario, five from the next most populous Quebec, four each from the rising western powers in British Columbia and Alberta, and one each for every other province except Prince Edward Island (which elected no Conservatives at all this past January 23). A quick first impression would be that anyone who wanted Stephen Harper to make a hopeless mess of things right from the start has to be disappointed. (And readers who want a full cabinet list and/or a discussion of the 4 PM Democracy Watch criticisms of key appointments can read on … )
Cabinet List
Here are all 27 members of the new cabinet by province, in alphabetical order, and with their full official titles:
ALBERTA: The Right Honourable Stephen Joseph Harper, Prime Minister; The Honourable Rona Ambrose, Minister of the Environment; The Honourable Jim Prentice, Minister of Indian Affairs and Northern Development and Federal Interlocutor for Mtis and Non-Status Indians; The Honourable Monte Solberg, Minister of Citizenship and Immigration
BRITISH COLUMBIA: The Honourable Stockwell Day, Minister of Public Safety; The Honourable David Emerson, Minister of International Trade and Minister for the Pacific Gateway and the Vancouver-Whistler Olympics; The Honourable Gary Lunn, Minister of Natural Resources; The Honourable Chuck Strahl, Minister of Agriculture and Agri-Food and Minister for the Canadian Wheat Board.
MANITOBA: The Honourable Vic Toews, Minister of Justice and Attorney General of Canada.
NEW BRUNSWICK: The Honourable Gregory Francis Thompson, Minister of Veterans Affairs.
NEWFOUNDLAND AND LABRADOR: The Honourable Loyola Hearn, Minister of Fisheries and Oceans.
NOVA SCOTIA: The Honourable Peter Gordon MacKay, Minister of Foreign Affairs and Minister of the Atlantic, Canada Opportunities Agency. (Mr. Harper has also indicated on TV that Mr. Mackay will be serving as provincial minister for Prince Edward Island as well.)
ONTARIO: The Honourable John Baird, President of the Treasury Board; The Honourable Michael D. Chong, President of the Queen's Privy Council for Canada, Minister of Intergovernmental Affairs and Minister for Sport; The Honourable Tony Clement, Minister of Health and Minister for the Federal Economic Development Initiative for Northern Ontario; The Honourable Diane Finley, Minister of Human Resources and Social Development; The Honourable James Michael Flaherty, Minister of Finance; The Honourable Marjory LeBreton, Leader of the Government in the Senate; The Honourable Robert Douglas Nicholson, Leader of the Government in the House of Commons and Minister for Democratic Reform; The Honourable Gordon O'Connor, Minister of National Defence; The Honourable Beverley J. Oda, Minister of Canadian Heritage and Status of Women.
QUEBEC: The Honourable Maxime Bernier, Minister of Industry; The Honourable Jean-Pierre Blackburn, Minister of Labour and Minister of the Economic Development Agency of Canada for the Regions of Quebec; The Honourable Lawrence Cannon, Minister of Transport, Infrastructure and Communities; The Honourable Michael Fortier, Minister of Public Works and Government Services; The Honourable Jose Verner, Minister of International Cooperation and Minister for La Francophonie and Official Languages.
SASKATCHEWAN: The Honourable Carol Skelton, Minister of National Revenue and Minister of Western Economic Diversification.
Democracy Watch Criticisms
Inevitably enough, not everyone is pleased with Prime Minister Harper's new cabinet. Duff Conacher's Ottawa group Democracy Watch has advanced three particular complaints:
(1) "David Emerson running as a Liberal candidate in the last election and post-election, while still a Liberal Cabinet minister, deciding to accept new Prime Minister Stephen Harper's offer to switch to the Conservatives and receive a post in the new Cabinet."
(2) " the appointment of Michael Fortier to the Senate and as Minister of Public Works and Government Services, even though he is unelected and a Conservative party organizer."

(3) "the appointment of Gordon O'Connor as Minister of Defence even though he was a lobbyist for defence industry companies up until February 23, 2004."
Mr. Conacher has said: "New Prime Minister Stephen Harper has shot himself in the foot, if not the head, on the government ethics issue with some of his Cabinet appointments as they are clearly hypocritical and reveal a very weak regard for election promises and federal ethics rules."
From another point of view, what all this suggests is that the new prime minister has more respect for older traditions of Canadian parliamentary democracy than Duff Conacher – and less concern about certain somewhat bookishly extreme and narrow-minded (and arguably quite unworkable) concepts of "ethics" and "accountability" that have surfaced in some quarters, in the wake of the sponsorship scandal and all that.
David Emerson, e.g., has done nothing all that much different from what Belinda Stronach did late last spring. (Or what Winston Churchill did, twice, back in the more glorious days of the Mother of Parliaments across the sea.) And Ms. Stronach has just been re-elected quite handily in her riding. Letting MPs cross the floor can be viewed as a healthy antidote to obsessive partisan conflict, and to excessive party domination of the democratic process. To argue that this traditional practice has now become illegitimate is to argue that the political party (as opposed to sovereign electorate) is the central institution of modern democracy. And that could become just a recipe for the backroom tyranny of the political party. If there were any decisive consensus on this issue among the electorate nowadays, Ms. Stronach would not have been re-elected so handily this past January 23. If Mr. Emerson's constituents are truly offended by what he has done (especially after declaring how he would be opposing Stephen Harper's plans vigorously in the immediate wake of his election as a Liberal, as the TV has reported), they can defeat him in the next federal election, which may well be coming soon enough.
There are similarly substantial enough precedents in Canadian political history for what Mr. Harper has done in his plot to get Michael Fortier into the cabinet by appointing him to the unreformed Senate. And Prime Minister Harper's comments on TV about how this will not compromise his plans for moving ahead on the long journey to a properly reformed and democratically elected Senate were plausible enough, in the real world of politics on the banks of the Ottawa River.
Finally, to say that someone like Gordon O'Connor – a former Brigadier General in the Canadian Forces – cannot serve as Minister of National Defence, because he was a "a lobbyist for defence industry companies" as recently as somewhat less than two years ago could also amount to disqualifying anyone with up-to-date experience in a particular public policy sector from public office. And is that really going to give the sovereign electorate a better Government of Canada? Organizations like Democracy Watch may want to be watching just what Mr. O'Connor does very carefully. But it finally seems somewhat perverse – or at best cutting off your nose to spite your face – to disqualify someone with his qualifications as defence minister.
All this having been said, Duff Conacher probably does have one strong point. Now that Prime Minister Harper has chosen to apply some of the traditional Ottawa arts and crafts of making Canadian government work to his own advantage like this, his room for criticizing the "corruption" of the past masters of these same arts and crafts among his Liberal opponents has no doubt shrunk considerably. Whatever finally happens exactly to Mr. Harper's much-touted "Accountability Act," some of its initial luster has already been at least a bit tarnished.
On this and other counts, some of the new prime minister's own warmest supporters may be a bit disappointed already. But some of the old and more officially neutral Ottawa hands must also be a bit impressed. For the moment, it still seems that Stephen Harper (as has only lately become altogether clear) is a pretty smart guy, who really is going to try to govern all of Canada and win at least a majority of seats in Parliament in the next election, whenever it comes.
HOPES FOR NEW GOVERNMENT IN CANADA .. back to the future?
SUNDAY, FEBRUARY 5, 2006. Today CBC Newsworld asked viewers to send in their hopes for Stephen Harper's new Conservative minority government in Canada, which will be sworn into office tomorrow. A caustic man from Toronto sent an email saying that he hopes the new government will not last longer than four weeks.
Students of Canadian political history note that history never repeats itself. But John Diefenbaker from Saskatchewan won a slender Conservative minority government on June 10, 1957. The next election took place less than 10 months later, on March 31, 1958, when Dief the Chief's Conservatives won an overwhelming majority government. This lasted just over four years. But on June 18, 1962 the Chief's Tories scraped by with another slender minority government.
This lasted less than 10 months, until April 8, 1963, when Lester "Mike" Pearson's Liberals won a somewhat stronger but still minority government. This lasted almost two-and-a-half years. Then on November 8, 1965 Mike Pearson's Grits almost but not quite won a majority government – which adroitly set the stage for the accession of Pierre Trudeau's first Liberal majority government on June 25, 1968.
In some ways, the struggles between The Chief and Mike Pearson in the late 1950s and 1960s – with Tommy Douglas's reformed New Democrats and a strange amalgam of Western Social Credit partisans and Quebec Creditisties putting occasional sticks in the wheels – had  more to do with the creation of the Canada we know today than the subsequent long regime of Pierre Trudeau. And Canadians may now be embarking on some vaguely parallel journey into the depths of the 21st century? Canadian politics since the federal election of 2004 has been full of surprises and unexpected (and sometimes even interesting) developments. Still more surprises may lie ahead.
The Chief's Conservative governments of the late 1950s and early 1960s, e.g., brought fresh concerns with regional economic development to federal public policy, started the quest for a modern Canadian Bill of Rights, and made a last noble defense of the declining and falling crypto-national future within the old British Empire and Commonwealth. Mike Pearson's subsequent Liberal governments gave Canada its own unique national flag at last, laid the groundwork for an aggressive new commitment to French and English bilingualism in federal institutions, established the basic federal-provincial framework of the modern Canadian social welfare system, and began the globalization of Canadian immigration law.
Who knows? The (for the moment?) retiring Liberal leader Paul Martin may have been onto something a few days ago, when he confessed that, prior to the June 2004 election he did not "give a lot of thought to being the Prime Minister of a minority government, which is a very, very different ball game than a majority government – one that I'm not quite sure that in Canada we fully appreciate." Yet.
NEXT CANADA RISING .. Top 10 things you should know about what Stephen Harper is up to already ..
UPDATED TUESDAY, JANUARY 31. Just after the 2004 Canadian federal election Globe and Mail columnist John Ibbitson, disappointed by the reluctance of his fellow Ontarians to embrace the new Conservative faith of Stephen Harper from Alberta, warned that "the next Canada will not be denied forever."
Just a year and a half later, the 2006 election has proved how right this warning was, more or less. Less than a week after his slender minority victory on January 23, Mr. Harper's "plan to reform the political culture" of Canadian federalism has apparently hit the ground running. Here are some quick and dirty notes on what seems to be going on:
(1) New cabinet to be sworn in Monday, February 6. On January 26 Stephen Harper met with Governor General Michalle Jean for morning tea at Rideau Hall in Ottawa. They settled on February 6 as the date his new cabinet or government executive will be sworn in. According to CBC News, cabinet prospects include: BC Stockwell Day, Jay Hill, James Moore, Chuck Strahl; ALBERTA Diane Ablonczy, Rona Ambrose, Rahim Jaffer, Jason Kenney, Bob Mills, Jim Prentice, James Rajotte, Monte Solberg; SASKATCHEWAN Carol Skelton; MANITOBA Steven Fletcher, Vic Toews; ONTARIO John Baird, Tony Clement, Diane Finley, Jim Flaherty, Gordon O'Connor, Bev Oda, Scott Reid, Peter Van Loan; QUEBEC Lawrence Cannon, Jose Verner; ATLANTIC CANADA Loyola Hearn, Peter MacKay.
(2) Standing up for Canada on Arctic sovereignty (well, sort of). How long will it take for the pure driven snow from Alberta to get soiled by the duplicitous corridors of federal power in Ottawa, right on the border between Ontario and Quebec? Some would say we already know the answer, and it's two days. Mr. Harper was smartly alert for an opportunity to give his new regime the right start in the public eye. And by Thursday of this past week he had shrewdly seized on some careful and cautious remarks by the US ambassador, in response to a question raised by a journalist at an academic conference, and turned them into gold.
The question was what did the ambassador think of Mr. Harper's plans to strengthen the military defense of Canadian Arctic sovereignty? The ambassador very circumspectly noted that there has been a longstanding diplomatic dispute between the United States and Canada, over the international status of what Canada sees as its Arctic waters. But, he said, there was no reason to make any problem of all this. Then, at his subsequent first press conference, Prime-Minister-Designate Harper alluded to the incident (without anyone asking him about it), as if the ambassador had forthrightly opposed his plans. And, Mr. Harper told the TV audience from coast to coast to coast, he took his mandate "from the Canadian people, not the US ambassador."
John Ibbitson has already complained that this incident amounts to disturbing initial evidence that the upright Conservative Stephen Harper is no less unwilling than the scandal-tainted Liberal Paul Martin to play the unseemly anti-American race card in Canadian politics, once the forbidden fruits of office are in his grasp. Be that as it may or may not be, a spontaneously combusted counterweights focus group of Toronto NDP supporters suggests that this time the trick has worked quite well. Chalk one up for the new prime-minister-designate already – even before he's had a chance to sit down at his new desk in the Langevin Block and inspect the office furniture.
Meanwhile, allied technical reports about both Canadian Arctic sovereignty and the views of the present US ambassador's predecessor suggest that Washington probably will be happy enough if Canada finally does succeed in claiming the northern seas in its Arctic territories as (northern) North American rather than international waters – by going to the considerable expense of policing and keeping them open with three costly new ice-breakers. Apparently the foreign vessels up there actually threatening Canadian sovereignty at the moment are from Russia, not the USA. It's not as if the Government of Canada has any plans to exclude anyone (and certainly not the US brothers and sisters) from a fabled Northwest Passage freshly revived in the age of global warming. And, nowadays especially, just as well that Ottawa foots the bill for keeping the continental/hemispheric interest intact in the forbidding far north as Washington. (Remember Jimmy Carter and the Panama Canal?)
3. Jack "Not Exactly the King-maker" Layton will do what he can to avoid another election too soon. With his own principled left-wing supporters suitably softened up by the prime-minister-designate's fresh defense of Canadian Arctic sovereignty, by the weekend after the January 23 election NDP leader Jack Layton had already begun to signal some kind of fresh co-operative intentions towards the new fragile right-wing Conservative minority government. According to a Canadian Press report: "despite Mr. Layton's initial skepticism, he's sounding more conciliatory and ready to deal on a half-dozen issues where left and right appear to intersect. I am going to make a legitimate, determined effort to find things where there can be common action,' he said. I believe there are ideas in all of our platforms for the parties to get something done.'" (Though by Tuesday, January 31 Mr. Layton was also being reported as wanting to see a full new Conservative budget, before coming to any conclusions about a GST tax cut.)
4. No other coalition in sight … of course. It is probably a good thing for Jack Layton that his somewhat expanded 2006 New Democrat caucus cannot quite give Stephen Harper's party even a bare 155-seat majority in the new Parliament all by itself. Any kind of more formal "Conservative-New Democrat" governing alliance to avoid another election too soon would no doubt put too much strain on the capacity of even congenitally pragmatic and non-ideological Canadians to believe in what their politicians say they stand for during election campaigns.
Similar considerations make the other mathematically possible more formal party alliances of the highly fractured 39th minority Parliament equally impossible in practice. "Conservative-Liberal" won't work in 2006 for obvious reasons (even though John A. Macdonald's and Georges Etienne Cartier's founding Canadian conservative alliance of 1867 was officially known as the "Liberal Conservative Party" until after the First World War). And even if the de facto working governing alliance of Canada's 39th Parliament does wind up being "Conservative-Bloc Quebecois," no one in Ottawa is going to be saying so out loud, in either official language.
So the new Harper Conservative minority government is going to govern on an "issue by issue" basis – trying to get support from this party in that case and that party in this case, etc. The challenge of the task has prompted some unrepentant old-school thinkers to suggest that the new government will not even meet Parliament until the fall. And this does raise the interesting research question of just how much a Government of Canada can accomplish strictly by executive fiat, without reference to any parliamentary endorsement from the peoples' elected representatives – even if it is automatically supported by only 124 members in a 308-member Parliament, and a mere 36% of the cross-Canada free and democratic peoples' vote?
Those already more in tune with the quite unusual – and perhaps even unprecedented – parliamentary democratic playing field which the cunning Canadian people have provided on January 23 seem to agree that Prime Minister Harper and his government in Ottawa are going to have to meet Parliament no later than early spring. That will give the new cabinet time to find out where the washrooms are etc, without having to face a daily grilling from the surviving 103 Liberals who already know such secrets intimately – but also without offending the strong currents of democratic populism that still help drive Mr. Harper's own Conservative base (and much of the base of Jack Layton's New Democrats too?). [And now the very latest reports suggest that Mr. Harper will be recalling Parliament and bringing down a new budget as early as March.]
5. "The Accountability Act" will be job one. Mr. Harper does seem to have wisely made clear already that he will be consulting the other three elected party leaders on what his government will be trying to do, even before Parliament meets itself. His fragile minority government will not be trying to govern as if it had a majority (as Paul Martin's Liberals unwisely tried to do in the fall of 2005). The obvious not-too-difficult first task here is Mr. Harper's vaguely enough proposed "Accountability Act" – to ensure that such horrible things as the Quebec sponsorship scandal will never happen again. All the former opposition Conservatives, Blocquistes, and New Democrats have already agreed on this issue, when they finally joined to defeat the old Liberal minority government in Parliament this past November. (And then the second volume of the Gomery report on the sponsorship scandal – to deal with "what is to be done?" – is due on February 1.)
There are, however, some dangers even here. They flow fundamentally from the fact that, as one open-minded NDP campaign worker confessed to the counterweights editors a few weeks ago, as political scandals go in the global village democracies nowadays, the Quebec sponsorship scandal in Canada was really "pretty small potatoes."
As a report on the prime-minister-designate's first press conference this past Thursday has indicated: "Harper said he intends to keep the memory of the Liberal scandal alive by urging "the appropriate authorities" to try to recover what his party claims is $40 million of stolen taxpayers' money that has not been recovered." But the 103 seats the Liberals won on January 23 – in spite of what the most ardent scandal mongers in all three old opposition parties said was finally bound to happen – suggest that if Stephen Harper really wants to be prime minister of Canada for any length of time, he will not be pressing this button too hard. (And perhaps still more to the point, neither will the Jack Layton who wants to attract still more progressive voters.)
For one thing, the Liberals now have an interesting new weapon with which to fight back on this front. As Ottawa journalism dean Jeffrey Simpson has also noted quietly but compellingly this past week, the Mounties' still very-hard-to-explain political intervention in the just completed election campaign – at the behest of the opposition NDP finance critic – has left a bad taste in more than a few seasoned Canadian political mouths. Other things equal, the people of Canada will probably let this sleeping dog lie, unless it tries to get up and walk itself. But it was arguably just as or even more troublingly "corrupt" as anything that happened in the Quebec sponsorship scandal. Someone should no doubt be reminding Jack Layton especially that, as is said, people who live in glass houses shouldn't stow thrones. (And then there's all the old Brian Mulroney people on the Conservative transition team too.)
6. But gay marriage revisited could be job three or four? There have already been some suggestions that Mr. Harper could be moving quickly enough on revisiting the legalization of gay marriage, that a majority of the old 38th Parliament agreed to early this past summer – once the new 39th Parliament actually meets (again probably early this coming spring?).
The following exchange took place at the prime-minister-designate's first press conference on January 26: "QUESTION: Mr. Harper, I know you haven't set this as one of your top priorities but at what point do you think in the life of a minority government you would be able to bring forward legislation or a motion or a vote on the traditional definition of marriage? HARPER: I've simply said that we'll be doing it in the life of the parliament. I would prefer to do it sooner rather than later but not immediately."
Once you start to think about it, there probably is a good political argument for getting this thorny issue out of the new government's way quite a bit "sooner rather than later but not immediately." And all the prime-minister-designate seems to have promised his most ardent supporters on the issue is a so-called "free vote" in Parliament, on the proposition of replacing the present full legalization of gay marriage with some form of civil union for same-sex couples, that still exclusively reserves the actual term "marriage" for heterosexual couples.
Mr. Harper will need at least a bit more than 30 votes outside his own party to make this work. The NDP will provide none. (The last NDP MP who voted against gay marriage was expelled from caucus.) Some Liberals who might have supported such a move have been defeated in the 2006 election. And the BQ is not likely to provide any large numbers either. So there would seem some realistic prospect that if a vote were held soon enough in the spring, it would not pass. But Mr. Harper would have discharged an obligation to important Conservative supporters, and the whole subject would be out of the way.
(On the other hand, the often well-informed CITY TV in Toronto has also been advising gay couples who do want to get married to do it soon. Though, on the other hand again, local faith-based-politics TV diva Lorna Dueck does seem to be counselling patience on such matters to the faithful, who would of course gain nothing from watching the defeat of any too early attempt to reverse the legalization of gay marriage in Parliament.)
Meanwhile, US hardcore social-conservative theocrat Paul Weyrich has just written that "inasmuch as Harper's is a minority government," he can for the moment probably not do a great deal "to correct some premises of cultural Marxism, which Canadians have espoused, such as same-sex marriage and abortion-on-demand." But given some time, Mr. Weyrich more optimistically urges, Stephen Harper may be able to improve things by appointing more social conservative Canadian judges: "As has been the case in the United States, cultural Marxism largely has been foisted upon Canada by the courts … If judges who respect the Constitution were to be appointed, they would confirm that such rights are not to be found in that document."
7. Fixing the federal-provincial "fiscal imbalance" is already job two? The biggest dollars-and-cents action over the first months of the new Harper government could be trying to make headway on the current so-called "fiscal imbalance" in federal-provincial financial relations – an arcane but still potent (and very traditionally Canadian) subject. At the prime-minister-designate's first press conference he said: "I intend to have serious discussions with the provinces to solve this problem." And according to press reports the premiers of the three largest provinces have already been talking on the phone.
There would seem to be assorted potential pitfalls along the way here. On one theory, e.g., it would be nice to give Quebec premier Jean Charest the kind of deal that might sell well in the provincial election he is expected to face in 2007 – and which, on some accounts, the sovereigntist Parti Quebecois is at the moment poised to win.
From one point of view, the PQ's federal cousins in the Bloc Quebecois might be expected to support any new deal that was good for Quebec. But then you wonder how the BQ could really support a deal that would be used against the PQ in a Quebec provincial election? And then whatever deal Quebec gets Dalton McGuinty's Ontario is going to more or less want too, to say nothing of Gordon Campbell's BC (or the federal Conservative heartland in Ralph Klein's Alberta). And then again there is the related always thorny problem of equalization payments for less affluent provinces, and so forth, on and on.
Just what kind of deal would both make almost all the provincial premiers happy and be able to pass muster in the fractured new federal Parliament is not altogether easy for mere mortals to see. But if Mr. Harper can come up with something here that wins big enough more general applause he would certainly score some big initial points. On the other hand, fools rush in where wise men etc. … (And as yet another problem here, just where is all the required big federal money really going to come from anyway?)
8. Preston Manning speaks. The January 27 issue of the Toronto Globe and Mail ran an interesting column by Preston Manning, who qualifies as one founder of the contemporary Western-inspired Canadian conservatism that has finally just managed to come to office with Stephen Harper's new federal minority government. It offered some appropriately high-minded thoughts to the 124 newly elected Conservative (and perhaps a few other?) MPs: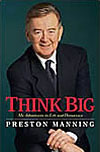 "What would this House be like if the occupant of the prime minister's seat … and the occupants of the opposition leaders' seats across the floor were strongly encouraged by members like you to act as democrats first, and partisan leaders second? … What would this House be like if the occupants of the Speaker's chair and the seats of the House officers were strongly encouraged, with the support of members like you, to put parliamentary reform instead of partisan interests at the top of their agendas? … And what would this House be like if every seat – including yours – was occupied by a member committed to putting the service of constituents and country ahead of personal and partisan considerations? Could not such a House actually become the temple of democracy it is supposed to be and win back the respect of Canadians?"
Mr. Manning also offered somewhat more overtly partisan historical thoughts about "the most famous of your parliamentary predecessors … John A. himself, with George Brown, George-tienne Cartier, Samuel Tilley, Charles Tupper, even old Joseph Howe, members of the great conservative-reform coalition that brought Confederation itself into being? … They, too, are watching to see if this new conservative-reform coalition can set a new course for the Canada of the 21st century."
Just what is meant by "this new conservative-reform coalition" – a phrase also invoked once or twice lately by Stephen Harper on TV – remains a bit intriguing. Does the "reform" part of the equation, e.g., refer to the Bloc Quebecois or the NDP? Or just to the old loyalists of the late 20th century Reform Party that Mr. Manning himself began? It is intriguing as well that the modern Liberal Party of Canada is actually the purest heir of the old Canadian Reform party of the 19th century. And, again, the grand old party of Macdonald and Cartier was more officially known as "Liberal Conservative" – a name abandoned for a time in the 1920s, but then echoed again with the now equally obsolete "Progressive Conservative" in the early 1940s. Just where, you have to wonder, will the new Canadian conservative journey end this time?
9. PC ghost of Brian Mulroney on transition team. Those who want more of the old Progressive Conservative party in the new Harper government may take encouragement from the former Brian Mulroney staff people on the Harper transition team. But veterans of the 19841993 Mulroney regime are the only conservatives of any sort around Ottawa nowadays who have practical experience with the day-to-day thermodynamics of managing the federal government. Once the newer Harper people have learned the ropes, the transitional old PC influence could fade quickly?
10. New Liberal leadership arrangements. Meanwhile, another circumstance that ought to give the new Harper government at least an initial year of comparative security in office is the Liberals' need to find a new leader, now that Paul Martin has resigned so graciously – and quickly. Already (by the afternoon of Monday, January 30) two potential big-name candidates, John Manley and Frank McKenna, have indicated they will not be running.
Though he will retain his Montreal-area seat in Parliament, Mr. Martin will not be leading the Liberals in opposition either. Until a new leader is chosen at a full-fledged convention (in the fall of 2006, say?) another Liberal MP will be serving as interim leader. Press reports are currently touting Bill Graham or Jim Peterson for this job – a decision the new Liberal caucus will no doubt be making soon enough. [Very soon the latest reports say, and the smart money is betting on Bill Graham. With both Mr. Manley and Mr. McKenna out of the running, it is also being reported that a Liberal leadership convention could come as late as spring 2007.] By this summer it may be a little clearer just where the Liberals are going to go now (and just how much of a problem the latest edition of In Search of Canadian Liberalism may or may not be for the new Conservative government).