Monday, 04 August 2008
The "Rasmussen Reports daily Presidential Tracking Poll for Monday [August 4] shows the race for the White House is tied with Barack Obama and John McCain each attracting 44% of the vote. However, when 'leaners' are included, it's McCain 47% and Obama 46%. ... This is the first time McCain has enjoyed even a statistically insignificant advantage of any sort since Obama clinched the Democratic nomination on June 3." Or, as perhaps a bit too whimsically explained in the Times of London: "Maybe Obama won't make it to the White House ... He could default on his manifest destiny, after all." Meanwhile, back in Canada, according to Kelly McParland at the National Post: "Evaluated from the perspective of schoolyard quarrels, this [past] week's exchange between Stéphane Dion and Stephen Harper can be seen in either of two ways ... Mr. Dion drew a line in the sand when he intimated that he's itching to get Mr. Harper ... with both barrels of the Liberals' carbon tax plan ... Or ... it was Mr. Harper who stuck his toe in ... when he issued his dare: not just once, but three times by my count ... Either way it's hard to see how we can avoid an election sometime before Christmas. If we do, one of the two men is going to look decidedly foolish."
How much trouble is Obama in anyway ...?
You could say that both Barack Obama himself and others earlier predicted the trouble he has fallen into over the past week or so — since he returned from his trip to the Middle East and Europe.
As John Ibbitson of the Toronto Globe and Mail has noted, "At a fundraiser in June he [Mr. Obama himself] talked about the kind of campaign to expect from the Republicans ... 'They're going to try to make you afraid of me,' he predicted. 'He's young and inexperienced and he's got a funny name. And did I mention he's black?'"
And then, as The Australian from down under has reported: "David Gergen, who has advised Republican and Democratic presidents, said: 'What we have learnt this week is that when the Republican attack machine cranks up — as Hillary Clinton predicted — Obama is actually pretty vulnerable."
Yet as predictable as it all may be, it is a sign of the distressing subtlety of what is going on that the Toronto Globe and Mail again (and of all places) ran an August 2 editorial entitled "Obama knows better." It opined: "John McCain has taken some questionable swipes at Barack Obama, including a bizarre new campaign advertisement that compares the presumptive Democratic nominee to Paris Hilton and Britney Spears. But for Mr. Obama to come close to accusing his Republican opponent of racism is worse. Having previously won praise for running a positive and optimistic campaign, Mr. Obama has now helped insert an ugly element into the U.S. presidential race."
Set aside the fact that Canadians do not actually get to vote in American elections. Surely it is obtuse, at best, not to recognize what the McCain campaign has been doing lately as more or less the equivalent of saying, in code: "And did I mention he's black?" Mr. Obama has not in fact used the exact term "racist" in his own reactions. And surely it is the McCain campaign that has begun the sad process of inserting an ugly element into the race — as David Gergen implies when he talks about what happens "when the Republican attack machine cranks up."
The more important question of course is just how badly damaged has Obama been by all this? Some most recent polls are the most distressing evidence that the attack machine is working ... well enough, in any case. There is the Rasmussen Reports daily Presidential Tracking Poll for Monday, August 4. And then, as The Australian has also reported: "Since his world tour last month, Senator Obama has been subjected to withering critiques by the McCain camp that have portrayed him as arrogant, presumptuous, addicted to celebrity and too elitist to connect with mainstream US voters. His lead in some national opinion polls has disappeared, and two surveys at the weekend showed the candidates tied ."
At least equally distressing are various pieces of evidence about a more diffuse electoral mood — again in, as it were, coded directions long predicted (and even feared), but no less disconcerting when they finally arrive. The Globe and Mail editorial itself is one example (even if Canada is not really a part of the electorate). Another is (from the Washington Post):"Ruth Haskins, 64, the city clerk of Billings, Mo., said she is 'scared about the younger generation running the country' and is solidly 'on the fence' about the election."
At the same time, the news is not uniformly grim. Keith Olbermann and others have stressed a new poll which shows that "Democratic Sen. Barack Obama holds a 2 to 1 edge over Republican Sen. John McCain among the nation's low-wage workers ... even among white workers — a group of voters that has been targeted by both parties as a key to victory in November — Obama leads McCain by 10 percentage points, 47 percent to 37 percent." Similarly, the "latest Gallup daily tracking poll Monday [August 4] had Obama up by three points, 46 to 43, after his lead dipped to just one point late last week."
Among many, many other things, two key points no doubt remain. The first is, to cite the apt title of an August 4 opinion piece by Juan Williams in the Wall Street Journal: "The Race Issue Isn't Going Away." If Mr. Obama is going to become the first black president of the USA, it is not going to be easy. And that is hardly surprising, knowing all that we do know about the history of all manner of race relations in all parts of the global village, including the North America that includes the Canada where the Globe and Mail resides.
Which leads directly to the second point — explained by Mr. Obama himself in a recent interview: "Obviously, we think we are in a tight race. And we think that this is going to be a close race all the way through." (Remember again, as noted [with references] below: in 1960 John F. Kennedy only managed a bare 49.7% of the popular vote, to Richard Nixon's 49.5%.)
Meanwhile, back in Canada ... where all we have are Stephen and Stéphane ...
If Kelly McParland is right, and there is a Canadian federal election at some point before Christmas 2008 as well, the latest opinion poll here suggests a result very similar to the one that gave us the Parliament we have in Ottawa now — i.e., another slender Conservative minority government, led by Stephen Harper.
Done by Ipsos-Reid for Canwest News Service and Global National, the poll was taken July 29–31. The cross-Canada results were: Conservatives — 34% ; Liberals — 30% ; New Democrats — 14% ; Green Party — 11%. Or, as the headline in the Calgary Herald puts it: "Conservative majority still out of reach, poll suggests."
Part of the reason, of course, is that since coming to office in February 2006 Mr. Harper's allegedly squeaky clean Conservatives have become somewhat tarnished, like everyone and everything else in the real world of government and politics. As just one of all too many increasing cases in point, note: "Le scandale Bernier a entaché la réputation du Canada ... Selon une enquête interne, l'imprudence de l'ex-ministre des Affaires étrangères Maxime Bernier a entaché la réputation du Canada au sein de l'Otan." (Or, if you prefer: "Bernier's loss of documents hurt Canada's reputation: report ... An internal review says Maxime Bernier's carelessness with government documents tarnished Canada's "good reputation within NATO circles." Hardly earth-shattering, no doubt. But still less than perfect.)
Meanwhile, according to the eminent L. Ian Macdonald of Montreal: "Harper is pinning his hopes on 418 ... He's convinced the road to a Tory majority runs through small-town Quebec." This is called the "418 strategy, after the area code for Quebec City and eastern Quebec," where "the Conservatives established their Quebec beachhead in 2006 [as opposed to the more diverse and less rural Montreal region to the west], and have since emerged as the competitive alternative to the Bloc Québécois." This 418 strategy is also "the main reason" the Conservatives "held their national caucus last week not in Quebec City as part of Quebec 400 celebrations, but across the St. Lawrence River in Lévis, at a convention centre and hotel so new that cable television still wasn't connected in all the rooms."
Having Mr. Harper's Western-Canada-dominated anglophone Conservative Party compete for Quebec francophone votes so abjectly is no doubt good for Canadian national unity — in the wake of both the 1980 and 1995 failed Quebec sovereignty referendums. But will it work in the narrowest partisan Conservative political sense? The latest Ipsos-Reid poll for Canwest News Service and Global National suggests probably not. The Quebec results were: Bloc Quebecois — 37% ; Liberals — 27% ; Conservatives — 18% ; New Democrats — 9% ; Green Party — 7%.
Meanwhile again, the Edmonton Sun for August 4 asked two columnists to debate the question: "Will [Stéphane] Dion be Canada's next PM?" The results here were: "ROB GRANATSTEIN — NO. GRIT LEADER'S INABILITY TO GET HIS MESSAGE OUT TO ENGLISH VOTERS WILL SPELL DOOM" ; and " PAUL BERTON — YES. JUDGE THE LEADERS ON THEIR PLANS AND THEIR CHARACTER AND THE LIBERALS WILL WIN."
This piece is interesting — and even encouraging enough for the future of Canada too. Again, however, the latest Ipsos-Reid poll for Canwest News Service and Global National suggests that Mr. Granatstein is probably right — as things look right now, in any case.
Finally, Kelly McParland is saying that if we do somehow manage to "avoid an election sometime before Christmas" in Canada, one of Mr. Harper or Mr. Dion "is going to look decidedly foolish." But of course there would be nothing especially unusual about that either. So don't bet the entire farm on anything ... yet.
July 26: OBAMA IN BERLIN .. sounded a bit like Stephen Harper on Afghanistan .. (and other news in brief)
It would certainly be wrong to say that Barack Obama is starting to seem a lot more like just another disappointing American politician. But Canadians who have had doubts about their own Conservative minority government's aggressive support for the current NATO military action in Afghanistan can be excused for wondering why Mr. Obama sounded so much like Stephen Harper on the same subject, in his July 24 speech in Berlin.
Meanwhile, Mr. Harper's announcement of three September 8 federal by-elections in Ontario and Quebec has sparked yet another round of diverse speculation on whether there will be a Canadian as well as a US general election this coming fall. And then we have more casual summer news on: (1) the Mounties who tasered a 16-year aboriginal girl in Manitoba; (2) more "surprise" surpluses in Ottawa; (3) a survey showing US tourists choose Canada first; (4) a new Trans Canada pipeline in Alaska; (5) an Egyptian firm on the Canadian wireless scene; (6) fresh concerns about Great Lakes water; (7) the mad dash for Arctic sovereignty; (8) forensic delays in the Wayne Powney murder case; (9) a report that the US dollar may be "ready for a rebound"; and (10) Statistics Canada on how nowadays it's the big guys who prosper, down on the farm.
Obama in Berlin ... etc.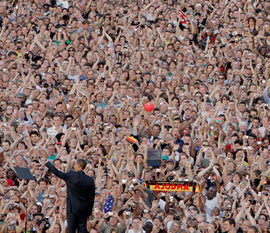 There have been assorted regional and related polling reports lately that suggest the election of Barack Obama as President of the United States of America this coming November 4 is far from a sure thing. See, e.g., "McCain Makes Significant Gains in Key Battleground States ... Majority of Voters in Colorado, Michigan, Minnesota and Wisconsin Favor Keeping Troops in Iraq, According to Quinnipiac-washingtonpost.com-Wall Street Journal Survey."
At the same time, the Washington Post is also reporting that: "National polling suggests Obama retains a steady but statistically significant edge. In the most recent Washington Post/ABC News survey, Obama held a 50 percent to 42 margin over McCain; in the latest NBC/Wall Street Journal poll, released last night, Obama leads 47 percent to 41."
Similarly, when someone like the distinguished Washington journalist David S. Broder publishes a July 24 column like "Obama's Tour de Force" ("It made no sense when Barack Obama left the country on his nine-day overseas tour for some of my fellow columnists to describe it as a high-risk venture"), it is clear enough that Barack Obama is at least an increasingly credible if far from insurmountable frontrunner for the moment — as the national polls attest.
Mr. Obama's own performance in Berlin on July 24 — before a crowd that has been estimated as high as 200,000 — has no doubt strengthened his position somewhat too (in the USA itself as well as in Europe). But at least aggressively progressive Canadians do have some reasons to wonder about the passage from the Berlin speech which explained: "No one welcomes war. I recognize the enormous difficulties in Afghanistan ... But my country and yours have a stake in seeing that NATO's first mission beyond Europe's borders is a success. For the people of Afghanistan, and for our shared security, the work must be done. America cannot do this alone."
This is all part of the more important Obamamanian strategy on getting US troops out of Iraq, you can say. As the recent polls from Colorado, Michigan, Minnesota and Wisconsin do seem to show clearly enough, US public opinion is still more militarist than in Canada (or Australia?) — to say nothing of Western Europe, even under the likes of Merkel and Sarkozy, or Berlusconi and Brown. So Mr. Obama answers concerns about showing military weakness in Iraq by saying the place where military strength has real importance is Afghanistan. (Even if he also says that he recognizes "the enormous difficulties in Afghanistan." And for us in the true north, strong and free, note some impact already in such subsequent headlines as "Canada may send more troops to Afghanistan" and "NATO allies pledge help to Canada in Afghanistan.")
Which probably does go to show that, even if he manages to finally get elected on November 4, there are limits to just how much CHANGE YOU CAN BELIEVE IN Barack Obama will be able to deliver in the USA today. It is probably worth remembering as well that in the fabled election of 1960 John F. Kennedy only very narrowly defeated Richard Nixon. Kennedy managed a bare 49.7% of the popular vote, to Nixon's 49.5%. (And Nixon won, e.g., both Colorado and Wisconsin — and Ohio and Indiana.)
Our view continues to be that the election of Barack Obama as US President will without any doubt be a great boon to the United States and the rest of the civilized global village — or what in the days of the real Mad Men was known as "the free world."
But it is certainly worth recognizing right up front, in the middle of the summer of 2008, that even Mr. Obama is really not going to be able to walk on water. He has his human flaws. Who can possibly know at this juncture exactly what kind of president he will finally prove to be? And just getting him elected in the first place still means a lot more hard work — and cash donations from ordinary upwardly mobile diverse Americans with good jobs too.
The September 8 by-elections in Canada ...
The Canadian federal by-elections on September 8 (a Monday) will be held in "two vacant Quebec ridings, Westmount-Ville Marie in Montreal and nearby Saint-Lambert, along with the southwestern Ontario riding of Guelph." Before they became vacant, the "Liberals held Westmount and Guelph, and the Bloc Québécois first won the long-time federalist riding of Saint Lambert in 2004."
The conventional wisdom seems to be that if the Liberals do well in these contests — take all three seats, e.g., or even just hold on to the two they used to have — they will likely try to engineer the Conservative minority government's defeat in the House this fall, and precipitate a fresh Canadian federal election at last. Liberal leader Stephane Dion has even lately prompted such headlines as "Canadians in mood for vote: Dion ... 'More Appetite'; Liberal leader hints at election by year's end."
So how likely is it that the Liberals will do well? Perhaps not entirely unlikely? The Conservatives, for their part, "are actively minimizing their [own Conservative] chances ... belying significant efforts they're making in at least two of the contests" (Guelph and Saint-Lambert).
The NDP is hoping that what Thomas Mulcair did for them in nearby Outremont not too long ago can be repeated by CBC Radio host Anne Lagace Dowson in the ancient Montreal anglo elite bastion of Westmount. And in Guelph the NDP is also "hoping a relatively high profile CBC radio personality, Tom King, can score an upset" — in a riding that "has a history of ... flipping back and forth between the Grits and Tories, having been held by the Conservatives when former prime minister Brian Mulroney was in office."
Even Elizabeth May's Green Party apparently thinks it has a chance to win in Guelph with a candidate called Mike Nagy. The Liberals in Guelph are counting on newcomer Frank Valeriote. And the "Conservatives seem to be so intent on the seat that Brent Barr was ousted as the candidate amid controversy and was replaced by Gloria Kovach, a long-time municipal councillor." The conventional wisdom here at the moment seems to be who knows who will win in Guelph. Which at least makes this an interesting race for political junkies.
In Westmount former Canadian astronaut Marc Garneau is running for the Liberals. This could make things a bit difficult for the NDP's Anne Lagace Dowson, who is apparently in truth no Thomas Mulcair. And then again Westmount is perhaps still a bit more old-money stodgy than Outremont (or the other mount in anglais), and thus unlikely to stoop to even just an alleged socialist in the very end. But again, of course, who knows?
Finally: "Saint-Lambert will be an interesting test of Bloc Quebecois strength. The riding was staunchly federalist and Liberal for decades. Disgust with the Liberals over the sponsorship scandal helped hand it to the Bloc in 2004 and 2006 ... The popular Bloc MP Maka Kotto has stepped down and gone to the provincial Parti Quebecois. The Conservatives covet this riding as a signal they've become the de facto federalist alternative to the Bloc. It was no accident that Harper spent Quebec's Fete National in this riding across the St. Lawrence River from downtown Montreal."
(Although Campbell Clark in the Globe and Mail has reported that: "The Bloc is [nonetheless] expected to hold on to Saint-Lambert, a riding that was Liberal until 2004 ... Transport Minister Lawrence Cannon did his best to lower expectations in an interview Friday [July 25], noting the Liberals came second in Saint-Lambert in 2006 ... 'That's the score as it stands now,' he said. 'I don't raise the bar. I look at it soberly.'")
Some very last wrinkles come by way of Ms. Susan Delacourt at the Toronto Star: "Guelph and Westmount are especially important to Liberals. If the Liberals do well in these ridings they now hold, it's believed they'll be emboldened to defeat the government and force a vote before the end of this year ... If they do poorly, as they did in last fall's by-elections when they lost one of their 'safe' seats in Quebec to the NDP [i.e. Mr. Mulcair as above], then all bets are off for a campaign this fall, and Canadians could see Harper stay in office until the October 2009 date set under his fixed-term election legislation ... Rumours persist that the Tories may hold off the return of the Commons to November, making it all but impossible for the government to be defeated before Christmas ... That said, however, poor Liberal showings could make the Tories even more anxious to try to provoke their own defeat in Parliament this fall and trigger an election."
Whatever, all confirmed Canadian political junkies will already have September 8 marked on their calendars, in whatever chosen colours they choose!
UPDATE JULY 27: According to a report on the Globe and Mail website later today: "Government House Leader Peter Van Loan confirmed Sunday [July 27] that the party will not delay the opening of Parliament in the fall and launch a new set of priorities ... 'We have no plans to prorogue,' Mr. Van Loan said Sunday on CTV's Question Period. 'We've got an important agenda to deliver on' ...
"Also on Question Period Sunday, Mr. Dion and one of his key supporters appeared to dial down the election rhetoric, perhaps to keep the Tories off-balance or to give themselves a way out should the Liberals underperform in three coming by-elections ... Later, Toronto-area Liberal MP Martha Hall Findlay said Mr. Dion appeared to play down last week's rhetoric ... 'I want to stress that what Stéphane Dion has been saying – he hasn't been saying we're going to have an election in the fall,' she said." (And if you're a bit confused by all this, join the club. Or is it just, on the old formula, "an election if necessary, but not necessarily an election.")
A more casual top 10 list of midsummer madness, etc, etc ...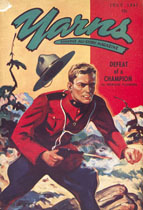 (1) Just on the face of things there seems no remotely good explanation for why the Mounties in Selkirk, Manitoba tasered a 16-year-old aboriginal girl three times — even allowing that she was "behaving badly." The fact that they have conducted their own internal investigation and "concluded there was no criminal wrongdoing" on their part is hardly reassuring.
(2) According to an organization of Canadian accountants: "More than a decade of 'surprise' annual federal surpluses" is "eroding the government's budgeting credibility" and "feeding the appetite for even more tax cuts." At the same time, the accountants' "report also raises suspicions that Ottawa is using surprise surpluses as [a] debt reduction strategy." Considering that all of the Harper Conservatives and Martin and Chretien Liberals have now been involved in this plot, what's most striking is how it implies an "Ottawa" that has some consistent policy regardless of which party is allegedly in office.
(3) "In mid-May, Visa surveyed 1,000 credit or debit card holders who live in the United States and have travelled outside the US in the past three years ...Canada was the most popular international destination among respondents, followed closely by Mexico." A recent article in a Seattle paper suggests that Canada's attractions don't always have much to do with Canada. The article was called "Victoria, BC: a taste of Britain in Seattle's backyard." And it began: "With the weak dollar and high air fares putting the cost of a trip to the real Great Britain out of reach these days, here's a way to satisfy your appetite for tea and scones closer to home."
(4) As reported in the Calgary Herald (using the Reuters wire service) : "Alaska's House of Representatives voted late on Tuesday [July 22] to allow TransCanada Corp. to build a massive pipeline to tap the vast natural gas resources of the state's North Slope region ... The chamber voted 24-16 ... for a bill backed by Governor Sarah Palin that would grant TransCanada a state license for a 1,700-mile pipeline to bring the gas to North American markets. ... The Alaskan Senate is expected to pass the bill approving TransCanada's bid by August 2 ... [Governor] Palin, a Republican, has endorsed TransCanada's plan to build the pipeline from Prudhoe Bay to an existing hub on the Alberta-British Columbia border, shipping 4 billion cubic feet a day. She argues the company, as an independent pipeline operator, would free the state and the North Slope from the dominance of the major oil producers there — BP , ConocoPhillips and Exxon Mobil." (Which can all make you think Alaska really ought to be part of Canada in any case?)
(5) One of the Harper minority government's few apparently almost altogether sensible actions during its current stewardship of the Canadian federation has been the recent "auction of airwaves over which wireless services are delivered" — which " raised C$4.25 billion ... in 331 rounds and almost two months of bidding ... more than twice the amount analysts had expected." In the midst of all this activity "Egypt's Orascom Telecom , among the biggest mobile phone operators in the Middle East, said ... it was part of a consortium chosen to create a new Canadian wireless operator. Cairo-based OT, which joined forces with Canada's Globalive Communications Corp, said in a statement the new operator had provisionally won a license for wireless spectrum in the country and was the high bidder across every region with the exception of Quebec, with a population coverage of 26 million."
(6) As reported by Linda Diebel in the Toronto Star: "A pact designed to preserve the Great Lakes is in reality a 'slippery slope' that threatens severe harm to the world's largest body of fresh water, a top US environmental lawyer has warned Canadians ... 'In effect, a precedent is being set, in that it allows for the commercialization of water. You are privatizing it,' James Olson said yesterday of an agreement among eight Great Lakes states now before the US Congress and linked to Ontario and Quebec through a side deal."
(7) Paul Koring at the Globe and Mail has just published an excellent short but highly informative piece on the current struggles for so-called "Arctic sovereignty" among Canada, Denmark, Norway, Russia and the United States. The title nicely summarizes what's going on: "The race to own the top of the world ... Melting icecap has circumpolar countries — including Canada — scrambling to bolster their claims to Arctic territory and the oil and gas riches beneath its seabed." This has been another potentially useful Harper government theme — if only it was prepared to put enough of its surprise surplus money where its mouth is, and inject some real muscle, weight and heft etc, into Canada's claims.
(8) L. Frank Bunting's "Murder on the Bruce Peninsula" — about the mysterious death of Dr. Henry Janssen in one of Southern Ontario's most magical countryside locations — remains one of counterweights' most popular stories of 2008. A recent item from the Owen Sound Sun Times updates the latest developments in this still quite mysterious case: "Delays at the Centre of Forensic Sciences have forced another adjournment in the case of Allan Wayne Powney, who is charged with murder in the death of Dr. Henry Janssen, his neighbour and friend ... Crown attorney David Hay told Justice Julia Morneau on Thursday that the test results are "still in the works" and requested an adjournment to Sept. 11, which was granted ... Court heard last month that the test results will determine the length of the preliminary inquiry — a hearing to determine if there is sufficient evidence to proceed to trial ... Powney, 64, of Jackson's Cove, is out on bail."
(9) The July 24 Business Outlook section on the Business Week magazine website has an article on "Why the Dollar May Be Ready for a Rebound ... As outlooks for the euro zone and Britain dim, central bankers will likely be forced to lower interest rates, creating conditions that could restore some of the US currency's value." If the US dollar does rebound, the Canadian dollar will presumably decline somewhat in terms of the US dollar? And in fact that does seem to be what has happened to the Canadian dollar over the past week — which was as high as par or $1.00 US on Monday, July 21, and then closed at $0.9815 US on Friday, July 25. (All this also probably qualifies as at least a some slight good news for the hard-pressed branch-plant and other manufacturing sectors in Ontario and Quebec. Note too a July 28 report in the Vancouver Sun: "Monday Asia markets: Dollar hits one-month high vs. yen.)
(10) Once upon a time the family farm was everything in North America north of the Rio Grande. Or so many legends of the past make it seem. A July 25, 2008 report from Statistics Canada shows how times have changed, in the most northern part of North America too: "Canada's largest farms, those with annual revenues of $500,000 or more, are becoming a major economic force in the country. Large farms are growing in numbers, the people who run them invest more in their businesses, and more large farms are profitable than smaller ones ... While smaller farms dominate in numbers, large farms dominate both revenue and profits. Farms with annual revenue over $500,000 represented only 11.0% of all Canadian farms in 2005, but accounted for 55.0% of revenue ... Below $250,000 in annual revenue, the majority of farm family income came from off-farm sources. Within the $250,000 to $499,999 revenue category, on-farm income and government payments were the major earning sources for the farm families. Above $500,000 in annual revenue, net farm income became the largest contributor to family income." (Something to think about as you drive through all the farmland on your way to the cottage — if you happen to live in the city nowadays, and all that.)
An Obamamania coda ... the Center for Southern African-American Music
In looking for illustrations for all this news on the Net we accidentally bumped into a website that seems to pay some suitable tribute to the prospective new age of Barack Obama — if that is in fact what is happening south of the Canadian border in the USA today.
It comes from the Center for Southern African-American Music at the University of South Carolina. And it offers a nice selection of short clips from albums documenting the early history of African American music — starting with Africa: Drum, Chant & Instrumental Music and African Chants and Harmonies, and going on to such things as Afro-American Spirituals, Work Songs & Ballads and Carolina Blues and Gospel (and many, many more).
The music clips offered are short, but still quite interesting. (And presumably it is somehow possible to buy the albums the clips come from if you get deeply interested?)
African music has made a massive contribution to American music — and through this especially to the music of the world at large. This contribution (and its history) has seldom received the scope of recognition it deserves (and among African Americans as well as other kinds). If Barack Obama does win the presidency this coming November 4, this too will probably start to change — a little at least. And whatever else, that will be a very good thing.
Only registered users can write comments.
Please login or register.
Powered by AkoComment 1.0 beta 2!