Nous le Nord : giving Drake a key to the city in "the most open-minded place you can find yourself"
Mar 12th, 2015 | By
Randall White
| Category:
Entertainment
According to Paul Rimstead (I think), Bud Grant, the old Winnipeg Blue Bombers coach from the USA, used to say that "Canadians should be more like Texans."
Today it might be said that Stephen Harper from Alberta has now realized this dream. And whether you approve or not is the main ballot question in this years's Canadian federal election – almost certainly on October 19, a mere seven months and several days hence?
At the same time, it just may be part of what makes Canada the strangely resilient place it recurrently proves to be that, even when Canadians are more like Texans, they are still not all that much like Texans.
(Especially if they speak French as their mother tongue, as some 22% of Canadians still do today.)
So last week Prime Minister Harper was talking on cp24 TV in Canada's current largest metropolis, about the excellence of the city's new mayor John Tory and of Toronto generally, and especially Toronto voters in this most important part of Canada, blah, blah, blah …
If this were the real America, you might say Stephen Harper trying to win an election in Toronto would be as crazy as Rick Perry trying to win an election in San Francisco.
But, just to start with, Prime Minister Harper, who graduated from high school with a 94.7% average, isn't really all that much like Rick Perry, even if they do share certain broad values – including a deep respect for the North American oil industry.
And then Alberta isn't all that much like Texas either. In 2015 Calgary, Alberta has the most liberal and progressive mayor in Canada in Naheed Kurban Nenshi – who was born in Toronto, but "raised in Calgary."
And then it's also worth remembering that Stephen Harper himself did not move to Edmonton, Alberta until he was 19 years old. He was also born in Toronto, and raised in the old suburbs of Leaside in the near northeast, and Etobicoke in the far west.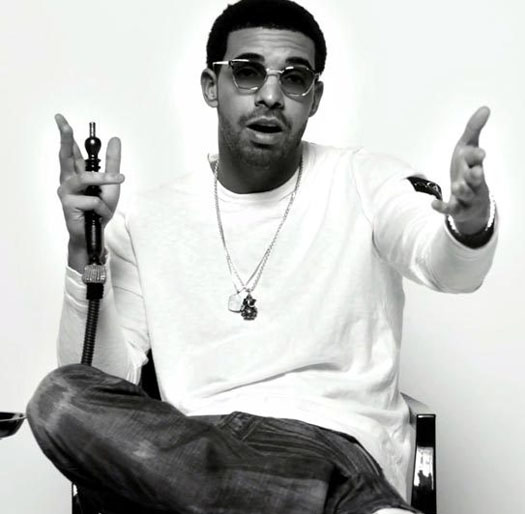 It was at this point in my meditations on the recent local news that I stumbled across such headlines as "Does Drake deserve a key to the city of Toronto?" and "Give Drake The Key To The City!"
And it didn't take too long for me to realize that, even at my suddenly vast vista of old age, my answer was yes indeed, yes please … and (remember the old winter works program?) do it now, when men and materials are available …
Aubrey Drake Graham, Degrassi TV graduate and local rapper/musician known as Drake (aka Drizzy) does deserve a key to the city. (Especially when you see the list of others who have been similarly honoured in the past – not that they are not all wonderful, of course). Kudos to City Councillor Josh Matlow for helping get things started.
1. Just gotta come home

It has recently been noted that : "Few people love their hometowns more than Drake … In fact, the rapper loves Toronto so much that, in the early hours of Thursday morning, he dropped a 15-minute short film as an ode."
The film "starts off with Drizzy being driven through the Los Angeles hills and examining the skyline, saying, 'The whole energy out here is just changing, you know. It's just getting dark, man, quick. … I'm just more worried about myself, you know? I just gotta come home.'"
And he does come home.
And at one point later he is being driven around the 6 (his name for Toronto, with various meanings it seems – which I quite like myself ), laughing wisely at his own jokes as the city goes by …
2. Drake's flaws are Toronto's flaws … and his strength is We the North! (Which means Canada stupid for those in US northern cities who may be confused) …

I don't think Drake is perfect … far from it. (For a super-cool if also too-clever-by-half critique see, eg, "Drake Embarrassing Himself at Basketball Games: A History.")
But that is just yet another way in which he does somehow personify something about a growing and increasingly important side of Toronto, where I have now lived myself for a very long time.
His flaws are the flaws shared by so many of us who warm our hands by the bonfire of the big smoke, on the northwest shore of Lake Ontario.
His strengths are the strengths of … well, say,"We the North" –  the slogan he apparently helped invent for the Toronto Raptors in the NBA. ("And far from the east side, miles from the west side, nowhere near the south side, we are the north side. A territory all our own … ")
Oh and btw, don't let the crude lumberjack wits of Portland, Oregon mislead you here with their sophomoric argument that Portland is actually somewhat further north than Toronto.
For starters, it turns out that Minneapolis is somewhat north of Toronto too. But the point is that the Raptors are not just a team that plays home games in Toronto. They are Canada's Team. And the "We" in "We the North" means Canada (a name bequeathed by the aboriginal peoples) and Canadians – les Canadiens – everywhere, not just in the Greater Toronto Area.
For better or worse, Drake is that kind of Torontonian. Again, the Raptors are Canada's team, the only Canadian team in the NBA. And who in their right mind would deny that Canada IS north of the USA. Even though, eg, Detroit, Michigan is actually due north of Windsor, Ontario. And there is always the strange outlier case of Sarah Palin in Alaska.
I think the intriguing CBC News blogger Lauren O'Neil from Chatham, Ontario is onto something when she calls Toronto "Canada's largest and, ironically, least Canadian-acting city."
But if you grew up in the place as Aubrey Drake Graham did you also sense a northern spirit in Toronto – from the ravines to Yonge Street and then the railways and now Highway 400 – Â which quickly lead further and further to the great Canadian Northwest.
And for a related immigrant experience see the late Heather Robertson from Winnipeg on Walking Into Wilderness : The Toronto Carrying Place and Nine Mile Portage – winner of the Legislative Assembly of Ontario's first annual Speaker's Book Award for 2012.
No American city, no matter how far north geographically, has quite this same northern feeling. (Which is on the other hand shared with every other city in Canada.) It's what Tom Thomson painted in his shack in the Rosedale ravine in Toronto – "The Jack Pine," "The West Wind," "Pine Island," and "April in Algonquin Park."
This is what "We the North" means. It is political, and cultural, even economic in some ways (as in the Canadian dollar and the Bank of Canada and the Canadian chartered banks, etc). And apart from anything else it's a great 21st century motto for Canada, from coast to coast to coast (which can also boast a northern geographic territory that is slightly larger than all of the USA!).
Drake has managed to translate all this into something that works in the world of hip hop and rap today, or whatever the correct technical terms may be. He has done something about his native city that needed to be done and won applause beyond its borders. (And it may even work in French – "Nous le Nord"! Pourquoi pas?)
3. In the layered city of talented underdogs …

Toronto today is a place of many layers, on various angles. Some are more vital than others. Some are essentially in the past. Some point more to the future. Â Drake does seem to be speaking for or about and to several of the more vital layers right now, or maybe even all of the above … including the past …
Or as Brett Chang has more hyperbolically explained: "You either love Drake or don't live in Toronto. It's difficult to explain how important he is to our city. You could say Drake's story and Toronto's share a lot in common. Both talented underdogs trying to make it big. But now that he's made it, and Toronto has too, it's time to celebrate."
4. Drake's bio : a few quick notes …

The biography of Aubrey Drake Graham is a kind of textbook case of multiculturalism and the "New Metis" in Toronto (Ontario), Canada today.
He was born in Toronto on October 24, 1986. His mother is Sandi Graham (née Sher), an educator and "a white Jewish Canadian."
His father is Dennis Graham, a drummer who worked with Jerry Lee Lewis, and an African American from Memphis, Tennessee. Two of Drake's uncles are/were also musicians – Larry Graham, who played bass with Sly and the Family Stone, and the late Teenie Hodges, a guitarist and songwriter on many of Al Green's hits.
Like Sammy Davis Jr. in an earlier era, Drake is that consummate case of minority status, the Black Jew. Except that Drake comes by his Jewish status naturally, through his mother.
His parents divorced when he was five years old. And he was raised by his mother in two Toronto neighbourhoods – in a poorer section on Weston Road until the sixth grade, and then in a rented first floor and basement in the affluent (and notably Jewish) Forest Hill. According to Wkipedia, the son of Sandi Graham went to Jewish school to learn about his faith "and had a Bar Mitzvah."
Another ingredient in Aubrey Drake Graham's formative years included periodic visits with his father in Memphis. This introduced the future Drake both to some legendary music, musicians, and rappers, and to a world where your father is in prison, twice, when you're growing up (presumably, as with many musicians in such places, on some kind of drug charges?).
Drake has reacted against media stories that stress the Forest Hill side of his Toronto childhood. At most he seems to concede that, thanks to the heroism of his single mother who wanted the best for her family, after grade six he "grew up poor in a rich neighbourhood."
While he never graduated from the locally legendary Forest Hill Collegiate, however, he did start his acting career there. And it was the theatrical agent father of a high school friend who "found Drake a role on the Canadian TV show Degrassi: The Next Generation as Jimmy Brooks …a basketball star who became physically disabled after he was shot by a classmate."
Drake has subsequently pointed out that a Canadian television actor typically makes less than a high school teacher. Being on Degrassi: The Next Generation from 2001 to 2009 in Toronto nonetheless gave his gradually but steadily growing and ultimately dazzling career in the North American entertainment industry a solid foundation.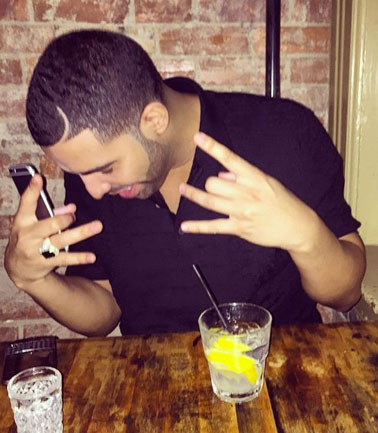 Drake's rap and music adventure began in 2006, with the self-release of his first mixtape, Room for Improvement. At this point he was a rapper, much influenced by what he had learned in Memphis. But his father told him : " 'There's no rapper out there that sings and raps and does both things well… and in order to be successful you're gonna need something other than just what everyone else is doing."
Subsequently, according to Wikipedia : "A large portion of Drake's work incorporates elements of both rapping and singing, which has led to him being unique as a recording artist. Drake has even described himself as 'the first person to successfully rap and sing.'"
Drake's big break in this side of his career came in 2008, when Lil Wayne from Houston, Texas was given some of Drake's music by Rap-A-Lot founder, J. Prince's son, Jas Prince. Lil Wayne "immediately called Drake to invite him to fly to Houston and tour with him." Lil Wayne  became his mentor.  MTV named Drake's third mixtape,  So Far Gone, "The Hottest Mixtape of 2009," and Drake signed a record deal with Lil Wayne's Young Money Entertainment.
Drake subsequently worked with such established pop stars as Birdman, Â Mary J. Blige, Eminem, Jay-Z, Young Jeezy, DJ Khaled, Rihanna, Trey Songz, Timbaland, and Kanye West, and he wrote for Alicia Keys, and Dr. Dre.
His official "debut album," Thank Me Later, was released in June 2010. The album "sold 447,000 copies and debuted at No. 1 on the Billboard 200." Drake's second album, Take Care, finally came out in November 2011 : "Lil Wayne commented on the project prior to its release that 'I don't know nothing else out there that can touch it, including my stuff. That kid is on another planet.'"
Early in 2012 Drake and producer Noah '40′ Shebib formed a record label called OVO Sound. (OVO stands for "October's Very Own" – Drake's birthday, I finally remembered, is October 24.) The label is distributed by Warner Bros. Records.
Drake's third album, Nothing was the Same, came out in 2013, and his fourth, If You're Reading This It's Too Late early in 2015. His second album, Take Care, won a Grammy as "Best Rap Album" in 2013. He has been nominated for Grammies every year since 2010. He has similarly been nominated for Junos in Canada every year since 2010.  And he has won Junos for various projects in 2010, 2012, 2013, and 2014.
He has also been nominated for (and sometimes won) American Music Awards, ASCAP Awards, BET Awards, BET Hip Hop Awards, Billboard Music Awards, BRIT Awards, People's Choice Awards, GQ Awards, MOBO Awards, MTV Africa Music Awards, MTV Video Music Awards, MTV Video Music Awards Japan, MuchMusic Video Awards, NAACP Image Awards, Soul Train Music Awards, Teen Choice Awards, World Music Awards, and Songwriters Hall of Fame.
At the end of September 2013, Drake was announced as the new "global ambassador" for the Toronto Raptors in the National Basketball Association (NBA). He will help promote and serve as a host of festivities for the 2016 NBA All-Star Game, to be held in Toronto, and he has helped rebrand the team with "We the North," "Northern Uprising," and other such wild  ideas.
About his hometown generally he has said : ""I'm from a place that is true mosaic … To me, we're the most open-minded place you can find yourself."
5. Drake and Rihanna and Chris Brown …

In the 1930s the local historian of Toronto during the French Regime, Percy Robinson, called Toronto "the citadel of British sentiment in America."
Times have changed since, in various major ways. But in a kind of hip reprise of the old verities, Drake's relationship with the awesomely sexy pop queen Rihanna, from Barbados (in the old British West Indies), began about the same time that the Degrassi: The Next Generation phase of his career ended.
Brittany Lewis's "A Complete History Of Drake & Rihanna's On-Again Off-Again Relationship" takes the story from its beginnings in "May 2009 – Rihanna and Drake Reportedly Spotted Kissing At Lucky Strike" to "April 3, 2014 — Drake releases 'Days In The East,' which is clearly about Rihanna. He even samples her Unapologetic ballad 'Stay' … Drake also mentions the time they recently spent in Europe together: 'Studyin' your body, that's exams for the boy'."
The story from here can be traced quickly in : "Drake :  Rihanna Is The Devil" ; "Rihanna Banging Drake Again … She Really Wants You to Know It" ; "Drake & Rihanna: He Still Loves Her, But Will He Commit Now? The Truth" ; "Rihanna: Furious That Drake's Crushing On Nicki Minaj? The Truth"; and "Drake and Rihanna Breakup and Relationship News 2015: 'Take Care' Rapper Upset Over Dating Rumors About Leonardo DiCaprio?"
A particular intriguing sub-plot in the Drake-Rihanna narrative involves her other big-time boyfriend from her early career, Chris Brown. The early apogee of all this in 2012 is covered in "Chris Brown injured after getting into NYC bar brawl with Drake over ex Rihanna."
For the latest developments here see : "Drake, Chris Brown spotted together in recording studio, putting end to Rihanna feud" (July 2014) ; "Chris Brown & Karrueche Tran: He Accuses Her Of Cheating With Drake" (December 2014) ; and "Chris Brown Baby: Drake Plans To Sing About It In Upcoming Song" (March 2015 – the mother of the baby is apparently Karrueche Tran).
6. In the 6 … and Jungle

(A) TORONTO RISING FOR THE MEGARICH (AND DRAKE). According to a recent Michael Babad piece in the Globe and Mail, "Toronto ranks among cities that will 'dominate' for world's megarich" (March 5, 2015).  This reports on a study "by Knight Frank, a global real estate consultancy whose annual Wealth Report is widely followed … The study lists the 40 'most important cities' for the wealthy this year, among other things, and ranks Canada's financial capital as No. 12 …  Ahead of Toronto are London, New York, Hong Kong, Singapore, Shanghai, Miami, Paris, Dubai, Beijing, Zurich and Tokyo … Rounding out the top 20 behind Canada's biggest city are Geneva, Sydney, Taipei, Frankfurt, Moscow, Madrid, San Francisco and Vienna."
Drake's net worth was estimated at $40 million in 2013. This is still not in the league of the "Top ten richest rappers" according to the same source (Dr. Dre — $780 million ; P Diddy — $700 million ; Jay Z —  $550 million, etc). But anything over a net worth of $30 million (US) is sometimes treated as the current cut-off point for the world's megarich. And while Drake's Toronto today may include memories of growing up poor in a rich neighbourhood – and before that a poor neighbourhood too – he is now, not quite in his 30s, an unqualified financial success in his hometown, aka in some quarters "the city with the heart of a loan shark"!
(B) DRAKE ON THE NET – SOME SAMPLES.  As with so much else in the world of music today, a substantial amount of Drake's work can be sampled for free on the net. For two early rap and music "tunes" that helped make his reputation see, eg, "Drake feat. Trey Songz –  Replacement Girl" and "Drake –  Best I Ever Had."
Danielle Harling's "Drake Says He Writes His Hits Quickly", from October 2013, introduces "a newly-released interview with Jian Ghomeshi," from before Mr.  Ghomeshi's current era of legal troubles. It includes a video of the interview itself, which, making allowances for what is now publicly known about Ghomeshi, offers an interesting encounter with Drake himself.
(C) RUNNING THRU THE SIX WITH HIS WOES! Drake's view of Toronto as "the 6" may have made more linear sense when the official city had just two telephone area codes – 416 and 647.  With the more recent addition of the 437 code this argument is of course weaker (mmmm – how about the 4 : but that doesn't sound quite right?) .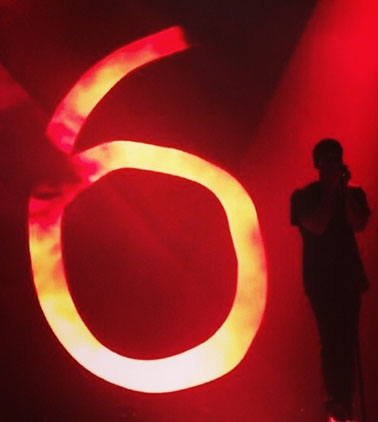 This may finally be a good thing. I have always myself favoured the argument that the 6 means the old six "lower-tier" municipalities of the now defunct Metropolitan Toronto – East York, Etobicoke, North York, Scarborough, Toronto, and York. And from this angle it's a critique of former Ontario premier Mike the Knife Harris, who mindlessly amalgamated the 6 into an over-centralizing Toronto megacity because he thought it would save money (which it didn't)!
From this angle as well the old 6 may be about to stage some kind of comeback – a policy that would probably win support from many quarters in the too unified Toronto of today. At the very least, with Drake "the 6 still live." And some of what it means to him is in his recent tune "I was running through the 6 with my woes!" (And if you CLICK ON this,  at the end of "I was running etc" You Tube will automatically move into Drake –  If You're Reading This Its Too Late/Full Mixtape/Full Album, which will last quite a while.)
Btw, "woes" in  "I was running through the 6 with my woes!" apparently has nothing  to do with trouble or unhappiness. Some say it's just New Orleans slang for neighbourhood friends. But according to a recent interview with "Toronto rapper, producer, and loose OVO Sound affiliate Devontée" : "Woe is my crew. It stands for 'working on excellence.' It's just my whole brand and my whole movement and my way of life for everyone. I want everyone to work on excellence."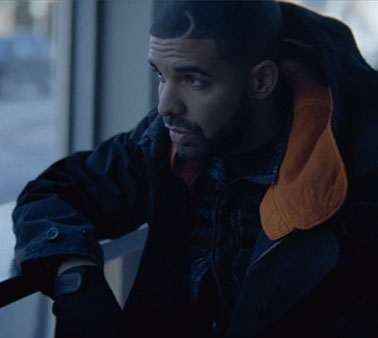 (D) DRAKE'S NEW MINI MOVIE, JUNGLE : One of the more interesting things Drake has done lately is the 15-minute short film alluded to in 1. Just gotta come home above. As already noted, the film "starts off with Drizzy being driven through the Los Angeles hills and examining the skyline, saying, 'The whole energy out here is just changing, you know. It's just getting dark, man, quick. … I'm just more worried about myself, you know? I just gotta come home.'" And he does come home.
It's when he leaves LA that the single word title appears on the screen, in red letters : JUNGLE. Whether this means he's leaving the jungle in LA for something slightly more bearable in Toronto –  "the most open-minded place you can find yourself" – is unclear. Or maybe everything's a jungle, as in "it's a jungle out there." Many critics speak of Drake's ambiguity in his art. And in my limited experience of it that does seem apt.
Whatever, Toronto is at this point introduced with some historical footage, including the Great Fire of 1904, and the city in, say, the 1950s or 1960s? Then someone is talking about 2008. Then we see what looks to be a quite young Aubrey Drake Graham taking music lessons from his Dad.(or one of his uncles) ????
Then I made these hasty notes : Driving … CN tower … G20 riots … bdlg down 1999 … D rapping as kid again … Then D in hotel (luxury condo) looking out window at T skyline … D out walking the city … Fence at Osgoode Hall … D drinking coffee in coffe shop … Walking again, quiet music … Man and baby look out highrise window … Ballet students … City in winter, everyone has parkas on … Short reprise of verse to "I was running thru the 6 with my woes" … then just music.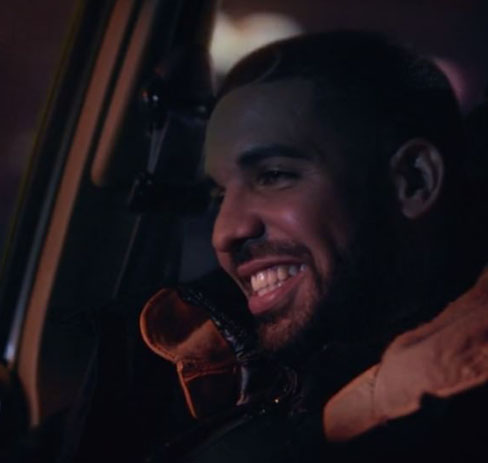 My notes go on : Drake talks with guys outside store in parkas at strip mall …  Gets into passenger seat in car … Joking, laughing while car drives thru city : "It's all good … Anyway … I'm off this ????" … Ominous music, dark coloured circles … Almost religious music, at least otherworldly chords … Guy moves towards girl … and what else … quite dark … A fire … girl at bar … brick wall still dark … people circulating including Drake … music now seems quite religious, mystical … girl by lamp on table as D approaches … Who is she … I don't know but not Rihanna … ??
And then my notes conclude :
The Dark Lady in S Sonnets ????
(Or some apprehension of D's beloved mother?)
Groups of people piano music still dark in red and then blue
Now wake up no sleeping in the streets
D gets out of passenger seat in car goes to drivers seat
and drives off and the screen just says JUNGLE in red letters
and then there are credits … a lot of credits … for all the LA and TO crews
(E) DRAKE'S NEW HERITAGE MINUTE FOR CANADA. The very latest Drake news was reported on March 10, 2015 on the CBC News website : "Heritage Minutes rap Drake lyrics in 'most Canadian mashup of all time' … Started from the bottom and now the people will know we were here: A Part OVO Heritage."
I'll just quote from the CBC site : "Drake now has his own Heritage Minute … Historica Canada recently partnered with a Toronto animation studio to cut together clips from the iconic educational videos in a manner that makes them appear to rap the lyrics from Drizzy's 2013 hit song "Started from the Bottom" … Thought Café cut up portions of dialogue from the original 60-second short films, which first aired in 1991, and reassembled them to rap the lyrics from the chart-topping track (the video for which was shot predominantly in and around Toronto.)"
(F) A UNIQUE ARTIST WHO LOVES HIS CITY AND SHOULD BE HONOURED. I am probably far older than most people who listen to Drake's rapping and music. I have only recently started to pay any attention to what he's doing.
What the 15-minute movie JUNGLE underlined for me is that Aubrey Drake Graham is a serious artist. Like many of the species, he is trying to tell the world about his life and what it means to him. And a lot of his life has a lot to do with Toronto, where he was born, raised, and still likes to spend a lot of time.
Does he deserve the keys to the city? Â At least as much as many of such recipients since the creation of Mike Harris's megacity in the late 1990s as : Margaret Atwood, George Chuvalo, George Cohon, the Dalai Lama, Celine Dion, Nelson Mandela, Ed Mirvish, Mickey Mouse (I kid you not), Nickelback, Sylvester Stallone, and the entire Population of PEI (do they all have actual replica keys?) ????
As the once delicious Sarah Palin from a place very far north of Toronto might say, "You betcha."