August 1 Ontario byelections : Just how much trouble are Kathleen Wynne's Liberals in — and does it matter?
Jul 31st, 2013 | By
Randall White
| Category:
In Brief
[FOR BYELECTION RESULTS SEE "August 1 Ontario byelections : a bit of a surprise — Libs 2, NDP 2, Cons 1."] The headline for Adam Radwanski's report in the Globe and Mail yesterday — "Ontario Liberals bracing for the end of Kathleen Wynne's momentum" — captures the minority governing party's worst prospects for the mini Ontario election tomorrow, in five byelections from virtually one end of Southern Ontario to the other.
As Radwanski puts it : "After entering this summer's by-election campaigns optimistic of holding on to three or four of the five seats vacated by former Liberal cabinet members, sources with the governing party now concede they're likelier to win only one or two – and it's not outside the realm of possibility they'll get shut out altogether."
Premier Wynne's best bet seems to be in "Fighting for Scarborough-Guildwood, a bellwether for Toronto politics."  The NDP appears virtually certain to take Windsor-Tecumseh, in the deep southwest.  London West is arguably a toss-up between the Conservatives and the NDP, with the Liberals in third place. In the deep southeast the Ottawa Citizen has now endorsed the Conservative candidate in Premier McGuinty's old riding of Ottawa South (where the Conservative candidate is already leading by quite a margin in the latest poll).  The Liberals may stand a chance in the other Toronto riding of Etobicoke-Lakeshore. But the Conservatives have the deputy mayor of Toronto on their side, who has a long history and strong reputation in what is now the west end of the megacity.
There would appear to be only three things that, byelectorally at least, can still be said in favour of the Kathleen Wynne experiment — which until recently was starting to look plausible enough:
(1) The anticipated very low voter turnout in mid-summer byelections may render calculations based on polling results (with typically smallish samples, by the same firm) more or less null and void . (Although see, eg, the eminent Eric Grenier's latest calculations on how low turnout may  actually work against the Liberals!) ;
(2) Virtually everyone had written off Christy Clark's Liberals in the recent BC general election — based on polling results and so forth. But her party won in the end anyway ;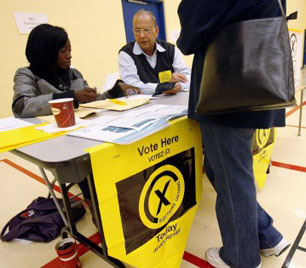 (3) Even if Ms Wynne's minority governing Liberals do take only Scarborough-Guildwood tomorrow (or still worse not even that!), it will not exactly be the end of the world for the future of either Kathleen Wynne and/or her Ontario Liberal Party. She will remain premier. And in a general election that may or may not follow sooner rather than later, we the people of Canada's most populous province will still have to decide just who we really want to lead the province in the current still challenging times in the global village : Kathleen Wynne, Andrea Horwath, or Tim Hudak? Ms Wynne may still be the obvious best answer for enough province-wide voters to count, when all the results are finally in. As she herself has been saying quite a lot lately, byelections are often or even typically rather hard on governments!
In any case, the one definitive certainty at this point is that we here will be reporting and briefly commenting on the actual results of tomorrow's five byelections, almost as soon as they become available on the still most magic medium of TV.