The big surprise ending to Barack Obama's first two years in office
Dec 23rd, 2010 | By
L. Frank Bunting
| Category:
USA Today
A site like this ought to say something about Barack Obama's surprise upbeat finale to the troubled year of 2010. And I have been asked to say it. I can't say much. My main sources are MSNBC and the Washington Post — and the vaguely snowy moonlit view from my lakeside office window, in the Thoreauesque far northern woods.
I want to begin by quoting directly from two Washington Post articles, just to clarify the substance (and limitations) of the achievement. First: "A lame-duck session with unexpected victories" … [by Perry Bacon Jr.] … A "six-week session that was expected to reflect a weakened president has turned into a surprising success. On Wednesday [December 22], Obama signed into law the repeal of the military's ban on openly gay service members, and the Senate approved a new nuclear treaty with Russia that the president had declared a top priority … Those accomplishments come after Obama successfully negotiated a free-trade agreement with South Korea, reached a deal with Republicans that extended unemployment benefits and prevented a tax hike for millions of Americans and signed a bill that will make school lunches healthier … This blitz of bill signings completes a dramatic first two years for the nation's first black president that included the enactment of arguably the most major liberal policies since the Johnson administration but also the Democrats' biggest loss of House seats in 72 years."
Second: "Stormy but highly productive 111th Congress adjourns" … [by David A. Fahrenthold, Philip Rucker and Felicia Sonmez] …  "A Congress that was dominated by Democrats passed more landmark legislation than any since the era of Lyndon B. Johnson's 'Great Society' … Congress approved an $814 billion economic stimulus, a massive health-care overhaul, and new regulations on Wall Street trading and consumer credit cards. The list grew longer during this month's frenetic lame-duck session: tax cuts, a nuclear arms treaty and a repeal of the 'don't ask, don't tell' policy on gays in the military … But the 111th Congress will also be remembered for endless filibuster threats, volcanic town hall meetings, and the rise of the tea party. All were symbols of a dissatisfaction that peaked on Nov. 2, with a Republican rout in the midterm elections … 'This is the most dysfunctional political environment that I have ever seen. But then you have to juxtapose that with [this Congress being] one of, at least, the three most productive Congresses' since 1900, said Norman Ornstein, a scholar at the American Enterprise Institute … 'Making sense of all of that can make your head burst,' he added."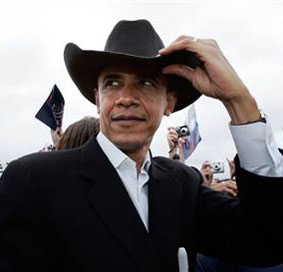 From MSNBC I have learned that Harry Reid, the Democrats' point man in the Senate, deserves much credit for the "frenetic lame-duck session." (And I'd say hats off to Nancy Pelosi, who has played the parallel role in the House — a pioneer in her own right too.) Democrat activists who have pressed their points to what many have seen as a sometimes too cautious and compromising president have also been important. So have some principled Republicans, who finally broke ranks with their more rabidly ideological and partisan colleagues, to get sensible things done for the American people. Paul Krugman (and many others) still think enormous challenges lie ahead (and of course they are right). But the handsome alleged "lesbian vampire" Rachel Maddow is at least pleased that President Obama did seem genuinely delighted to sign the repeal of the "don't ask, don't tell" policy on gays in the military.
Of course as well, who knows just what will happen in 2011, when the  Nov. 2 Republican rout in the midterm elections takes over in the House? Richard Wolffe at MSNBC, however, has raised the prospect that the past six weeks have set the stage for something completely different in relations between President and Congress than anyone was expecting on November 3, 2010. (And it would certainly be nice if something like this somehow came true.)
My own small view is that President Obama has earned the right to be somewhat less than humble about his ultimate achievements, in the face of all the criticism he has had to endure over the past year and a half. Much hard work and still more grief no doubt lies ahead. But the first African American president — up from the historic scourge of slavery only 150 years ago (figuratively at any rate, in his case) — deserves a happy holiday season with his family and friends. He has made me feel more optimistic about the human prospect. He has shown that there is real strength in the democratic tradition of compromise to which we Canadians are also so addicted. He has already shown that there is almost certainly more to the future of democracy in America in the 21st century than many now seem to think. (And do Rupert Murdoch and the Republicans have anyone who can claim anything like that?)